Everything We Didn't Say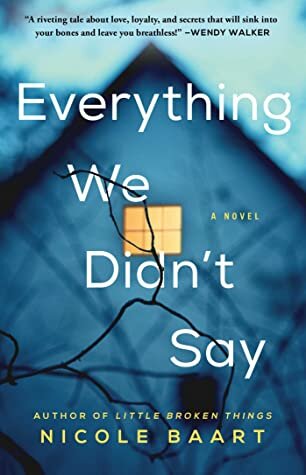 Everything We Didn't Say
by Nicole Baart
Published November 2, 2021
by Atria Books
Rating: 3 Stars ⭐⭐⭐
Genre: Mystery
Goodreads Synopsis:
From the author of Little Broken Things, a "race-to-the-finish family drama" (People) following a mother who must confront the dark summer that changed her life forever in order to reclaim the daughter she left behind.
Juniper Baker had just graduated from high school and was deep in the throes of a summer romance when Cal and Beth Murphy, a childless couple who lived on a neighboring farm, were brutally murdered. When her younger brother became the prime suspect, June's world collapsed and everything she loved that summer fell away. She left, promising never to return to tiny Jericho, Iowa.
Until now. Officially, she's back in town to help an ill friend manage the local library. But really, she's returned to repair her relationship with her teenage daughter, who's been raised by Juniper's mother and stepfather since birth—and to solve the infamous Murphy murders once and for all. She knows the key to both lies in the darkest secret of that long-ago summer night, one that's haunted her for nearly fifteen years.
As history begins to repeat itself and a dogged local true crime podcaster starts delving into the murders, the race to the truth puts past and present on a dangerous collision course. Juniper lands back in an all-too-familiar place with the answers to everything finally in her sights, but this time it's her daughter's life that hangs in the balance. Will revealing what really happened mean a fresh start? Or will the truth destroy everything Juniper loves for a second time? Baart once again brilliantly weaves mystery into family drama in this expertly-crafted novel for fans of Lisa Jewell and Megan Miranda.
My Thoughts:
I really wanted to love this book and normally I really enjoy a slow burn but this just didn't do it for me.
What I liked:
– it was a well written story
– for a familiar storyline, it has a lot of unique elements
– I always love a story that unfolds with a past and present timeline
What I didn't like:
– the mix of tenses. When Juniper recalled the past, it was in first person but the present day story was focused on her but in third person. It read really choppy to me because of this.
– so slow. I often forgot what the point of the story was because there were tangent storylines and for a short book everything was just so drawn out.
– the tangent storylines. Between the murders, the feud between the Tates and the Murphy's, the dead animals, the vandalism, Cora's cancer, the environmental pollution, the family drama, the police involvement, the frayed relationships, the podcast, etc etc there was just too much going on that I struggled to get invested in any of it.
– we didn't have enough clues to solve the mystery and some facts about the night of the murders should have been divulged sooner. That being said, it was still pretty predictable. This point will only make sense if you read it!
– there were a lot of storylines, particularly regarding the relationships, that felt like loose ends to me. For example Juniper and her daughter Willa – totally didn't understand the history there at all. It was vaguely explained but I think it could have played out much better. And also Ashley and Juniper – it was such a huge part of the story yet basically irrelevant to the plot.
– it was so easy for me to put this book down. When I would really focus and read for several chapters I would enjoy it but I always had to force myself to pick it up.