City of Time and Magic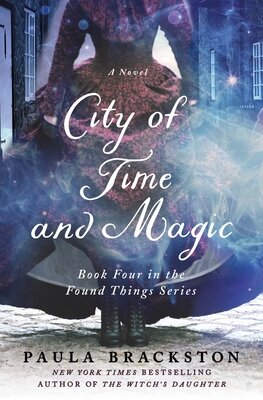 City of Time and Magic: Book four in the Found Things Series
Paula Brackston
Publication Date: November 23, 2021 by St. Martin's Press
Genre: Historical Fantasy
Rating: 4 stars ⭐⭐⭐⭐
City of Time and Magic sees Xanthe face her greatest challenges yet. She must choose from three treasures that sing to her; a beautiful writing slope, a mourning brooch of heartbreaking detail, and a gorgeous gem-set hat pin. All call her, but the wrong one could take her on a mission other than that which she must address first, and the stakes could not be higher. While her earlier mission to Regency England had been a success, the journey home resulted in Liam being taken from her, spirited away to another time and place. Xanthe must follow the treasure that will take her to him if he is not to be lost forever.
Xanthe is certain that Mistress Flyte has Liam and determined to find them both. But when she discovers Lydia Flyte has been tracking the actions of the Visionary Society, a group of ruthless and unscrupulous Spinners who have been selling their talents to a club of wealthy clients, Xanthe realizes her work as a Spinner must come before her personal wishes. The Visionary Society is highly dangerous and directly opposed to the creed of the Spinners. Their actions could have disastrous consequences as they alter the authentic order of things and change the future. Xanthe knows she must take on the Society. It will require the skills of all her friends, old and new, to attempt such a thing, and not all of them will survive the confrontation that follows.
My thoughts: This fourth book in the Found Things series is just as delightfully entertaining as its predecessors. The main character Xanthe is determined to save her friend Liam from a life of being stuck in the wrong time. She learns that her mentor, Lydia, had good intentions in kidnapping Liam. As a result, Xanthe finds herself obligated to assist Lydia in her quest for righting a serious wrong within the Spinner community. Brackston writes such meaningful and enjoyable relationships for her characters. Xanthe is emboldened by the support her friends are willing to provide in order for her to be successful with her unconventional calling. This book is a bit of a cross-over as Brackston writes into the story her beloved character Elizabeth from her debut novel The Witch's Daughter. It will be interesting to see if Brackston continues utilizing Elizabeth in future installments of Xanthe's adventures. That single addition made this book even more enjoyable. This book had a lot of moving parts and the reader must pay attention to the unraveling of loyalties. Brackston sets up nicely for additional books in the series without leaving the reader with a cliffhanger ending.

I received a copy of this title via NetGalley.