A Perfect Bind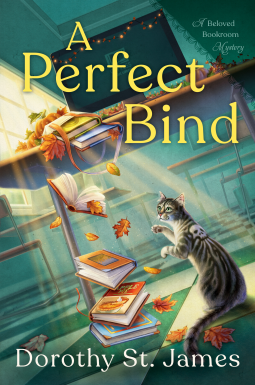 A Perfect Bind (Beloved Bookroom Mystery #2)
by Dorothy St. James
Published September 28, 2021
by Berkley Books
Rating: 4 Stars ⭐⭐⭐⭐
Genre: Cozy Mystery

From The Publisher:
Tru Beckett succeeded in building a secret book room in her now bookless library, where book lovers from lovely Cypress, South Carolina, can rejoice in the printed word. Now she's working hard to maintain the little library downstairs while keeping her real job upstairs in the bookless technology center. The last thing she needs is a mysterious vandal who seems intent on breaking into her secret book-filled sanctuary and creating chaos. The nasty interloper doesn't steal anything, but brutalizes the books, damaging them and knocking them off shelves.

A patron of the secret book room tells Tru that there have been creepy goings-on at the library for years, especially in the basement where the secret book room is located. He's heard rumors of a poltergeist that haunts the library, determined to scare off readers. Tru is certain it's hogwash, but she's at a loss to think of who might be vandalizing the beautiful books she fought so hard to protect. And when a dead body shows up right behind the library, Tru is certain that it's not a ghost but a cold-blooded killer that she and her trusty tabby Dewey Decimal will need to uncover.
My Thoughts:
What a fun cozy mystery! Warning: You do have to get past the ridiculous situation of a small town library in South Carolina that has banished ALL books in favor of only electronic resources. That would never happen (I hope!); electronic and printed resources can and do live together in harmony in most libraries these days. But once you accept that notion, you will enjoy this series.
The main character of this series is Tru, a young librarian who has rescued a lot of the books her library discarded and has established a secret lending library/bookroom in the basement of the library building. Again – you need to just accept this nonsensical situation and enjoy the story. I loved how the town's history, uncovered during the course of the book, related to the current murder mystery and the vandalism of the secret bookroom. I was glad that this time, Tru was not one of the suspects (as she was in the first book)! I was also glad that her secret bookroom is gradually being revealed to a larger number of people. Keeping it secret seemed an untenable situation and I'm interested to see how the author uses it in future books in this series. I'm also interested to see how Tru's relationship with the sexy detective Jace develops.
The local townspeople are varied and some of them are quite funny. I enjoyed the makeover/shopping trip that Tru took under the guidance of her BFF, Tori. Count me in as someone who cannot understand how anyone can be comfortable in high heels! Jace's reaction to Tru's new look was priceless. I also laughed at the reaction to the offering of tai chi exercise classes in the library – a very strict, religious woman accused them of being classes in devil worship!
WWMMD (What Would Miss Marple Do?) indeed!