The Last House On The Street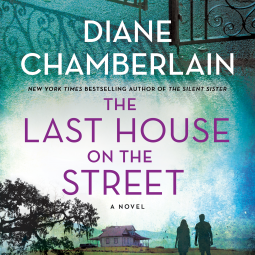 The Last House On The Street
by Diane Chamberlain
Published January 11, 2022
by Macmillan Audio / St. Martin's Press
Rating: 3 Stars ⭐⭐⭐
Genre: Historical Fiction / Women's Fiction / Mystery
From The Publisher:
When Kayla Carter's husband dies in an accident while building their dream house, she knows she has to stay strong for their four-year-old daughter. But the trophy home in Shadow Ridge Estates, a new development in sleepy Round Hill, North Carolina, will always hold tragic memories. But when she is confronted by an odd, older woman telling her not to move in, she almost agrees. It's clear this woman has some kind of connection to the area…and a connection to Kayla herself. Kayla's elderly new neighbor, Ellie Hockley, is more welcoming, but it's clear she, too, has secrets that stretch back almost fifty years. Is Ellie on a quest to right the wrongs of the past? And does the house at the end of the street hold the key? Told in dual time periods, The Last House on the Street is a novel of shocking prejudice and violence, forbidden love, the search for justice, and the tangled vines of two families.
My Thoughts:
The Last House on the Street audiobook is beautifully narrated by Susan Bennett, but the book suffers from being a dual timeline novel. I think I'm just tired of dual timelines! In this case, the earlier timeline, set in 1965 in North Carolina (near Greenville) was overwhelmingly my favorite. This part of the story takes you deep into the summer of 1965, during the struggle for civil rights, shortly before the Voting Rights Act was signed by then-president Lyndon Baines Johnson. You see the poverty, discrimination and violence suffered by the black population mainly through the eyes of a young, white volunteer in the SCOPE project (which I hadn't specifically known about), Eleanor, known as Ellie. The other timeline is in the same location in 2010 and the situation cannot hold a candle to the earlier story, but it serves to tie up some loose ends and solve a mystery from 1965. Because of the 2010 sections, you find out that Ellie left the area that summer and hadn't been back for the intervening 45 years. Because you knew this, there was less tension in the earlier story than there might have been.
This is the first book I've read by Diane Chamberlain and I liked it enough to check out some of her other books.
Thank you to NetGalley and Macmillan Audio for the opportunity to listen to an advance copy of this audiobook.