A Flicker in the Dark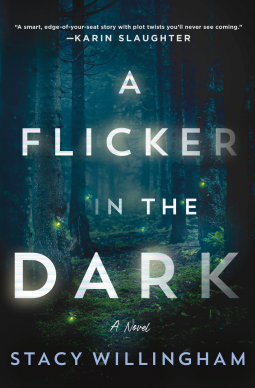 A Flicker in the Dark
by Stacy Willingham
Published January 11, 2022
by St. Martin's Press
Rating: 5 Stars ⭐⭐⭐⭐⭐
Genre: Mystery & Thrillers
DESCRIPTION
When Chloe Davis was twelve, six teenage girls went missing in her small Louisiana town. By the end of the summer, her own father had confessed to the crimes and was put away for life, leaving Chloe and the rest of her family to grapple with the truth and try to move forward while dealing with the aftermath.
Now twenty years later, Chloe is a psychologist in Baton Rouge and getting ready for her wedding. While she finally has a fragile grasp on the happiness she's worked so hard to achieve, she sometimes feels as out of control of her own life as the troubled teens who are her patients. So when a local teenage girl goes missing, and then another, that terrifying summer comes crashing back. Is she paranoid, seeing parallels from her past that aren't actually there, or for the second time in her life, is Chloe about to unmask a killer?
From debut author Stacy Willingham comes a masterfully done, lyrical thriller, certain to be the launch of an amazing career. A Flicker in the Dark is eerily compelling to the very last page.

MY THOUGHTS
A Flicker in the Dark convincingly portrays the inability of a woman to trust the people in her life after experiencing the trauma of finding out her father is a serial killer. It's one of the reasons Chloe becomes a psychologist and is determined to help others.
But a series of coincidences (and perhaps her anxiety and reliance on prescription drugs) cause her to suspect the people around her when a new crop of girls go missing. But will the police think she's crying wolf? After all, she's not the most reliable witness.
This book reminded me of a TV series, only this one would be called "The Prodigal Daughter". You can just visualize Chole's father mentoring a whole new generation of serial killers. But not so quick! The characters you thought you liked in this book may give you whiplash when the twists start coming!
I'm pleased to have been introduced to her writing through this debut novel through the generosity NetGalley and St. Martin's Press.