Both Are True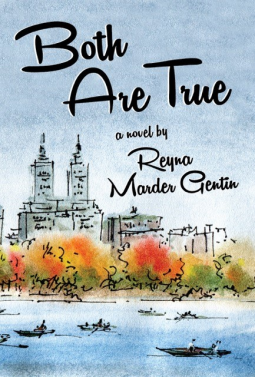 Both Are True
by Reyna Marder Gentin
Published October 5, 2021
by Moonshine Cove Publishing
Rating: 4 Stars ⭐⭐⭐⭐
Genre: General Fiction (Adult) / Women's Fiction

From The Publisher:
Judge Jackie Martin's job is to impose order on the most chaotic families in New York City. So how is she blindsided when the man she loves walks out on her?

Jackie Martin is a woman whose intelligence and ambition have earned her a coveted position as a judge on the Manhattan Family Court—and left her lonely at age 39. When she meets Lou Greenberg, Jackie thinks she's finally found someone who will accept her exactly as she is. But when Lou's own issues, including an unresolved yearning for his ex-wife, make him bolt without explanation, Jackie must finally put herself under the same microscope as the people she judges. When their worlds collide in Jackie's courtroom, she learns that sometimes love's greatest gift is opening you up to love others.
My Thoughts:
Both Are True portrays two vulnerable New Yorkers at a crossroads: on one hand you have Jackie, a 39-year-old female inexperienced family court judge and Lou, a 43-year-old underemployed male accountant/writer. Their relationship comes to a sudden end when Lou feels constrained in life and walks out on Jackie. The story is told in alternating chapters, from either Jackie's viewpoint or Lou's.
I found the scenes in Jackie's family courtroom to be very interesting and realistic. I didn't really buy Lou's relationship with his ex-wife after his split with Jackie, but his relationship – or lack thereof – with his ex-stepdaughter felt totally realistic.
There are vibrant descriptions of Manhattan and the joys and woes of living there – subways, coffee shops, Central Park, etc. The author draws a big contrast with her descriptions of the Westchester suburbs as very dull (but good for finding roads for long bike rides). I really enjoyed her description of how Lou felt after his first long bike ride in a long time, without padded shorts. I could relate!
Another highlight for me was the existence of several Jewish characters who are comfortable with their heritage but not overly religious/observant.
A minor quibble: Jackie's parents are in their 70s, but the author writes about them as if they were a generation older than that. She says her dad always listened to Sinatra, etc., whereas people that age probably listened to The Beatles and The Rolling Stones instead, or maybe Elvis. (I'm in that general age range and it was my parents' generation that listened to Sinatra, not mine.)
I'm not sure how to characterize this book, but I really enjoyed reading it. It's not really a romance, so I guess you'd call it "women's fiction," a genre title I hate.