The Wicked Widow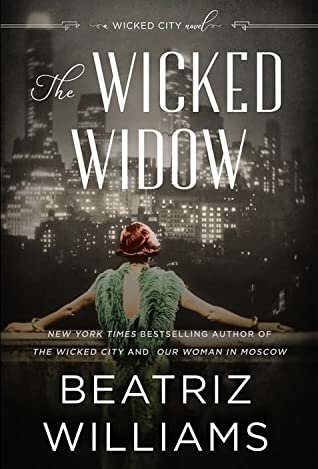 The Wicked Widow (The Wicked City #3)
Beatriz Williams
Publication date: October 12, 2021 by William Morrow
Genre: Historical Fiction
Rating: 5 stars ⭐⭐⭐⭐⭐
June 1925. Audacious Appalachian flapper Geneva "Gin" Kelly prepares to trade her high-flying ways for respectable marriage to Oliver Anson Marshall, a steadfast Prohibition agent who happens to hail from one of New York's most distinguished families. But just as wedding bells chime, the head of the notorious East Coast rum-running racket—and Anson's mortal enemy—turns up murdered at a society funeral, and their short-lived honeymoon bliss goes up in a spectacular blaze that sends Anson back undercover…and into the jaws of a trap from which not even Gin can rescue him. As violence explodes around her, Gin must summon all her considerable moxie to trace the tentacles of this sinister organization back to their shocking source, and face down a legendary American family at a rigged game it has no intention of losing.
June 1998. When Ella Dommerich's ninetysomething society queen aunt Julie ropes her into digging up dirt on Senator (and Presidential candidate) Franklin Hardcastle in order to settle old family scores, she couldn't be less enthusiastic. Pregnant Ella's recently ditched her unfaithful husband and settled into cozy—if complicated—domesticity with her almost-too-good-to-be-true musician boyfriend, Hector. But then the Hardcastle secrets lead to a web of shady dealings Ella's uncovered in her job as a financial analyst, and the bodies start to tumble out of the venerable woodwork. With the help of her ex-husband and her mysterious connection to a certain redheaded flapper, Ella digs up more than mere dirt…only to discover herself standing alone between a legendarily ruthless family and the prize it's sought for generations.
What ugly secrets lurk in the opulent enclaves—and bank accounts–of America's richest families? And can two determined women from two different generations thwart the murderous legacy of the demon liquor?
My thoughts: Beatriz Williams has struck gold with the enchanting Gin Kelly and the indomitable Aunt Julia. In this newest adventure we once again see how Gin and Anson continue to sabotage their happiness by insisting on getting involved with defeating those who are committed to corruption and greed. As if the stakes weren't high before, Williams ups the ante and writes a side to Gin we have not seen before. This Gin has the same determination but her spirit is somewhat more subdued based on the circumstances presented to her. The discovery of Gin's father, the underhandedness of Anson's former partner, and the uncovering of secrets held by longtime friend Christopher make for an action packed story.
One cannot forget that this is a dual time-line series. The other storyline continues the tale of the aforementioned Aunt Julia and Ella. While the relationship issues Ella has with her ex-husband Patrick seem a little "extra", her relationship with Hector has its own growing pains. Ella's determination to uncover the truth behind the shady business transactions she discovered while working as a financial analyst, seemingly correspond with some old family secrets and Aunt Julia's desire for revenge. Williams creates two storylines that could easily stand alone. Together they form a fantastical adventure and thoroughly enjoyable series. Cannot wait for the next book!!!

I received a copy of this title via NetGalley.