The Second Life of Mirielle West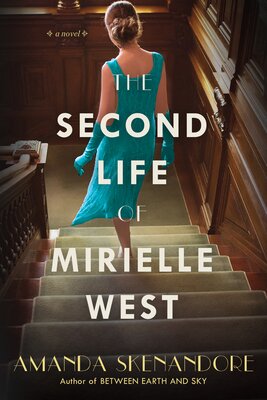 The Second Life of Mirielle West
Amanda Skenandore
Publication date: July 27, 2021 by Kensington Publishing Corporation
Genre: Historical Fiction
Rating: 5 Stars ⭐⭐⭐⭐⭐
1920s Los Angeles: Socialite Mirielle West's days are crowded with shopping, luncheons, and prepping for the myriad glittering parties she attends with her actor husband, Charlie. She's been too busy to even notice the small patch of pale skin on the back of her hand. Other than an occasional over-indulgence in gin and champagne, which helps to numb the pain of recent tragedy, Mirielle is the picture of health. But her doctor insists on more tests, and Mirielle reluctantly agrees.

The diagnosis–leprosy–is devastating and unthinkable. Changing her name to shield Charlie and their two young children, Mirielle is exiled to rural Louisiana for what she hopes will be a swift cure. But the hospital at Carville turns out to be as much a prison as a place of healing. Deaths far outnumber the discharges, and many patients have languished for years. Some are badly afflicted, others relatively unscathed. For all, the disease's stigma is just as insidious as its physical progress.

At first, Mirielle keeps her distance from other residents, unwilling to accept her new reality. Gradually she begins to find both a community and a purpose at Carville, helping the nurses and doctors while eagerly anticipating her return home. But even that wish is tinged with uncertainty. How can she bridge the divide between the woman, wife, and mother she was, and the stranger she has become? And what price is she willing to pay to protect the ones she loves? 
My Thoughts: This book exemplifies all that historical fiction can do. Who among recreational readers knows about the Louisiana leprosy hospital Carville? Skenandore brings knowledge of this slice of history to readers with a complex main character who is hard to love. Mirielle West is not one who will endear herself to readers. Yes, she suffers a heart wrenching tragedy that sets her on a path of depression and alcoholism, but at her core Mirielle is entirely self-absorbed. She remains entirely flippant throughout the early stages of her leprosy diagnosis. Even once she arrives at Carville she doesn't understand the scope of her situation. Skenandore uses Mirielle's viewpoint to showcase the various aspects of the disease itself and society's reaction to it. Mirielle might not be given the second chance at the life she wanted, but she does embrace the path that opens up for her. This is a book that readers will enjoy for its uniqueness of content and the diversity of characters that Skenandore brings together. A truly remarkable story.
I received a copy of this title via NetGalley in cooperation with Historical Fiction Virtual Blog Tours.