The King's Anatomist: The Journey of Andreas Vesalius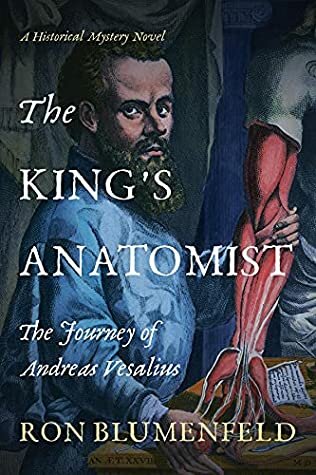 The King's Anatomist: The Journey of Andreas Vesalius
Ron Blumenfeld
Publication date: October 12, 2021 by History Through Fiction LLC
Genre: Historical Fiction, Mystery
Rating: 5 Stars ⭐️⭐️⭐️⭐️⭐️
In 1565 Brussels, the reclusive mathematician Jan van den Bossche receives shattering news that his lifelong friend, the renowned and controversial anatomist Andreas Vesalius, has died on the Greek island of Zante returning from a pilgrimage to the Holy Land. Jan decides to journey to his friend's grave to offer his last goodbye.
Jan's sentimental and arduous journey to Greece with his assistant Marcus is marked by shared memories, recalled letters, and inner dialogues with Andreas, all devices to shed light on Andreas' development as a scientist, physician, and anatomist. But the journey also gradually uncovers a dark side of Andreas even as Jan yearns for the widow of Vesalius, Anne.
When Jan and Marcus finally arrive on Zante, the story takes a major twist as a disturbing mystery unfolds. Jan and Marcus are forced to take a drastic and risky measure that leads to a shocking discovery. On his return home, Jan learns that Andreas was an unknowing pawn in a standoff between King Philip of Spain, his employer, and Venice. When he arrives home in Brussels, he must finally reckon with his feelings for Anne.
My Thoughts:
What a wonderful debut! The narrative style admittedly took some chapters to get used to as it isn't intuitive. In essence, Blumfeld interestingly chose to use the memories that his narrator, Jan van den Bossche, has on his journey to pay respects to his friend's final resting place as a means to deliver a biographical story of Andreas Vesalius. In summary, Vesalius was a radical in his day as his medical findings contradicted the accepted beliefs of medicine at the time. He embraced and encouraged the use of dissection on human corpses to fully understand human anatomy. Vesalius was a professor at the University of Padua and then the imperial physician in the court of Emperor Charles I. Blumfeld used the fictional lifelong friendship of the two to uncover a secret side to Vesalius. As van den Bossche discovers the truth about his friend he grapples with the enormity of the consequences of his friend's actions.
Blumfeld disperses images throughout the text and it is magnificent! The cover itself is a reproduction of a portrait of Vesalius. I highly recommend this one due to its unique subject, its interesting style, and the use of visual components to truly engage the reader.
Thank you to the publisher, NetGalley, and Historical Fiction Virtual Book Tours for a copy of this title.