Voices in the Mist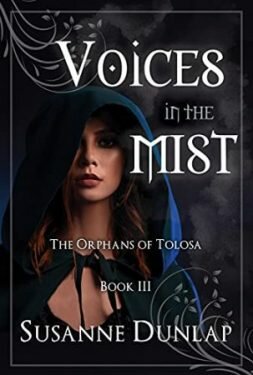 Voices in the Mist (The Orphans of Tolosa, Book III)
Susanne Dunlap
Publication Date: September 21, 2021 by BooksGoSocial
Genre: Historical Fiction
Rating: 5 stars ⭐⭐⭐⭐⭐
Toulouse, 1229. The inquisitors have arrived to rid the city of Cathar heretics once and for all, and are putting all unmarried girls over the age of 12 to the question. After an incident in the town calls unwanted attention to 14-year-old Bruna, a young Catholic stranger who is sympathetic to the heretics warns her family about the looming danger, and volunteers to marry their daughter to save her from being questioned.

But Bruna doesn't want to be forced into marriage, so she chooses flight—which lands her unexpectedly in the midst of a Catholic pilgrimage to Compostela, thrusting her into a life of deceit.

When her beauty and her voice bring her to the attention of the powerful Baron de Belascon, who owes fealty to the king of France, Bruna earns the enmity of the baron's bitter and imperious mother and finds herself caught between her allegiance to her own people and the dangerous secret of her origins—a secret that can be revealed at any time after the arrival of a French knight who recognizes her.

My Thoughts:
Voices in the Mist is the perfect culmination to a fantastic trilogy! Dunlap brings the otherwise forgotten history of the Cathars and the Albigensian Crusade during the 13th century to the modern reader with brilliantly crafted characters and a thoroughly engaging story. While this book is the third in the series the plot is actually a prequel. In this book we follow the life of Bruna. As a young girl, Bruna made a rash decision that subsequently snowballed into a life of lies and deceit. The choice she made to supposedly save herself impacted the lives and decisions of many. While the first two books focused on the Cather struggles to retain their culture and religion, this book highlights the crusade from the perspective of Catholic nobles. You will be mesmerized with the artistry Dunlap exhibits in recreating this world. There are layers upon layers of manipulation and deceit, dedication and loyalty, strength and determination, love and loss. Dunlap saved the best for last as this book is truly a tour-de-force.
Many thanks to BooksGoSocial, NetGalley, and HFVBTours for providing an advance copy of this title.