Such a Quiet Place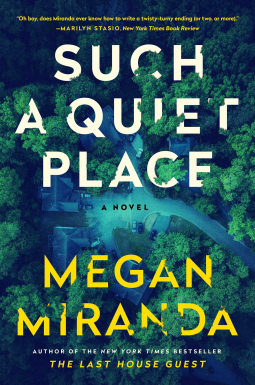 Such a Quiet Place
by Megan Miranda
Published July 13, 2021
by Simon & Schuster
Rating: 4 Stars ⭐⭐⭐⭐
Genre: Mystery & Thrillers
Synopis:

Welcome to Hollow's Edge, where you can find secrets, scandal, and a suspected killer—all on one street.
Hollow's Edge used to be a quiet place. A private and idyllic neighborhood where neighbors dropped in on neighbors, celebrated graduation and holiday parties together, and looked out for one another. But then came the murder of Brandon and Fiona Truett. A year and a half later, Hollow's Edge is simmering. The residents are trapped, unable to sell their homes, confronted daily by the empty Truett house, and suffocated by their trial testimonies that implicated one of their own. Ruby Fletcher. And now, Ruby's back.
With her conviction overturned, Ruby waltzes right back to Hollow's Edge, and into the home she once shared with Harper Nash. Harper, five years older, has always treated Ruby like a wayward younger sister. But now she's terrified. What possible good could come of Ruby returning to the scene of the crime? And how can she possibly turn her away, when she knows Ruby has nowhere to go?
Within days, suspicion spreads like a virus across Hollow's Edge. It's increasingly clear that not everyone told the truth about the night of the Truetts' murders. And when Harper begins receiving threatening notes, she realizes she has to uncover the truth before someone else becomes the killer's next victim.
Pulsating with suspense and with the shocking twists that are Megan Miranda's trademark, Such a Quiet Place is Megan Miranda's best novel yet—a twisty locked-box thriller that will keep you turning pages late into the night.
My Thoughts

Megan Miranda captures the feel of a small neighborhood enclave, where everyone has secrets, and everyone is watching (more than you realize).
This story reminded me of the time my neighbors came out to watch Halley's Comet – I had no idea so many people possessed binoculars and telescopes! In Hollow's Edge, folks have cameras, and the party line seems to be "If you see something, keep it simple". Rather than talk to one another, the residents of this tight knit community communicate through rumor and innuendo on their local message board.
The story leads with the idea that even though Ruby is released from prison for the murder of the Truetts, it's on a technicality, so there's still a possibility she's guilty. Ruby doesn't make it easy for people to believe in her innocence when she gets up to things that shake up the neighborhood – including unwilling roommate Harper. Harper remains ambivalent about Ruby's innocence, and who wouldn't be skittish if they thought they were living with a murderer? Harper starts her own investigation into the murders and that's where the plot begins some great twists and turns!
Thanks to NetGalley and Simon & Schuster for an advance reader's copy for review.