The Only Child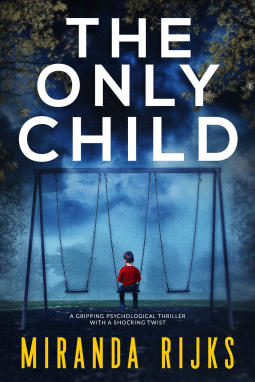 The Only Child
by Miranda Rijks
Published October 10, 2021
by Inkubator Books
Rating: 4 Stars ⭐⭐⭐⭐
Genre: Domestic Suspense
DESCRIPTION
One little boy. One little lie. Where will it end?
Chantal and Stuart are a golden couple. She's a high-flying divorce lawyer dealing with the biggest case of her career, and he's the darling of daytime television, on the cusp of A list celebrity. Their seventeen-year old son Alex is a passionate environmentalist, the apple of his mother's eye.
And it's all built on a lie.
A lie told by Chantal.
When someone discovers her secret and starts to blackmail her, Chantal's perfect life threatens to go into freefall. Her marriage, her career, and even her relationship with her son are at stake. She can't let it happen!
She decides to fight fire with fire, but soon finds her actions have extreme – and unexpected – consequences. As she is pulled ever deeper into a web of lies and deceit, she has to ask the most terrifying question of all…
Where will it end?
MY THOUGHTS
"Oh how the mighty have fallen" could be the theme of this book by Miranda Rijks. Take two people focused on their careers, throw in a rebellious teenager, and mix in one deep, dark secret (or two), and you have The Only Child.
This book was a bit of departure from her previous books, but no less dark. The story takes you into the mind of Chantal, a driven divorce lawyer who makes a decision early in her life that will affect her future, and her son Alex, an environmentalist who is so wrapped up in his teenage beliefs that he falls to see the impact his actions will have on his Mom and Dad's careers. Thank goodness for Debbie, Chantal's sister and "voice of reason" who is probably the only likeable character in the book. And that's okay, because Rijks accomplishes what she set out to do, show you the escalating breakdown of this seriously flawed family. The ending accelerates at warp speed and will require suspension of disbelief, but just enjoy the ride!
Thanks to NetGalley and Inkubator Books for an advance reader's copy.