Grave Reservations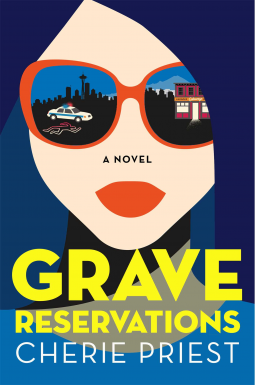 Grave Reservations (The Booking Agents #1)
by Cherie Priest
Published October 26, 2021
by Atria Books
Rating: 4 Stars ⭐⭐⭐⭐
Genre: Mystery / Thriller
From The Publisher:
Meet Leda Foley: devoted friend, struggling travel agent, and inconsistent psychic. When Leda, sole proprietor of Foley's Flights of Fancy, impulsively re-books Seattle PD detective Grady Merritt's flight, her life changes in ways she couldn't have predicted.

After watching his original plane blow up from the safety of the airport, Grady realizes that Leda's special abilities could help him with a cold case he just can't crack.

Despite her scattershot premonitions, she agrees for a secret reason: her fiancé's murder remains unsolved. Leda's psychic abilities couldn't help the case several years before, but she's been honing her skills and drawing a crowd at her favorite bar's open-mic nights, where she performs Klairvoyant Karaoke—singing whatever song comes to mind when she holds people's personal effects. Now joined by a rag-tag group of bar patrons and pals alike, Leda and Grady set out to catch a killer—and learn how the two cases that haunt them have more in common than they ever suspected.
My Thoughts:
Grave Reservations is light-hearted and entertaining despite being a murder mystery. I guess you could call it a cozy mystery of sorts.
The book has two well-defined main characters: Leda and Grady, along with some fun side characters: Nikki, Matt, Ben, and Tiffany, most of whom are associated with Castaways, the bar where Leda does her "klairvoyant karaoke" act. Leda holds someone's personal item and decides on a song to sing based on whatever feeling she gets from that item. Fun idea! There are great descriptions of Seattle and its citizens, which often had me smiling; Seattle is sort of a character in this book!
This is my first book by this author and, although I understand this is a new genre for her, I will definitely look into her other books now, because I enjoyed her writing style so much. Example: there's a reference to a burrito from Chipotle and the author has described it as being the size of a newborn.