The Replacement Wife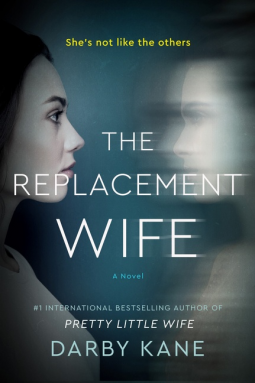 The Replacement Wife
by Darby Kane
Published December 28, 2021
by William Morrow
Rating: 4 Stars ⭐⭐⭐⭐
Genre: Psychological Suspense
DESCRIPTION
The #1 International bestselling author of Pretty Little Wife returns with another thrilling domestic suspense novel that asks, how many wives and girlfriends need to disappear before your family notices?
Elisa Wright is a mom and wife, living a nice, quiet life in a nice, quiet town. She's also convinced her brother-in-law is a murderer. Josh has one dead wife and one missing fiancée, and though he grieved for them he starts dating someone new. Elisa fears for that woman's safety, and she desperately wants to know what happened to her friend, Josh's missing fiancée.
Searching for clues means investigating her own family. And she doesn't like what she finds. A laptop filled with incriminating information. Other women.
But when Elisa becomes friends with Josh's new girlfriend and starts to question things she thinks are true, Elisa wonders if the memories of a horrible incident a year ago have finally pushed her over the edge and Josh is really innocent. With so much at stake, Elisa fights off panic attacks and a strange illness. Is it a breakdown or something more? The race is on to get to the truth before another disappearance because there's a killer in the family…or is there?
MY THOUGHTS
After years of a close-knit relationship, Elisa suddenly has a bad feeling about her brother-in-law, Josh. His fiancé went missing a while ago, and he's already into a new relationship. But there's even more below the surface that Elisa has yet to discover, and she's still reeling from her own trauma (which took a while to get to – which sometimes backfires in novels but worked okay in this one). Are Elisa's physical symptoms the result of post-traumatic stress….or something else? We know for sure that Elisa believes she's being gaslighted, but it seems like everyone is being played. And by whom? Figuring that out dear reader, is your mission!
I loved that this book was set in areas of Philadelphia, which is nearby, and I could relate to some of the towns that were mentioned throughout the book. I would have liked a lot more of the local flavor, but that didn't detract from the story. As another reviewer mentioned, it was hard to read Elisa (spelled with an "s" and really kept making me think of Eliza Doolittle!), but the short chapters made this very readable. I brought this book on vacation and it held my interest since I NEEDED to know what was going on 🙂 The ending held a few surprises and left some unanswered questions, but I wouldn't be mad if there was a sequel!
Thanks so much to NetGalley and William Morrow and Custom House for an advance reader's copy for review.