Reckless Girls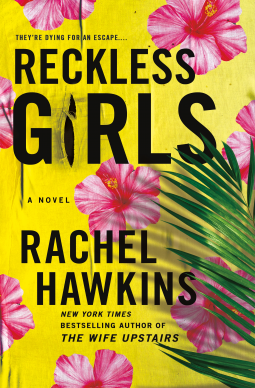 Reckless Girls
by Rachel Hawkins
Published January 4, 2021
by St. Martin's Press
Rating: 5 Stars ⭐⭐⭐⭐⭐
Genre: Mystery & Thrillers
DESCRIPTION

From Rachel Hawkins, the New York Times bestselling author of The Wife Upstairs, comes Reckless Girls, a deliciously wicked gothic suspense, set on an isolated Pacific island with a dark history, for fans of Lucy Foley and Ruth Ware.
ONE ISLAND

Beautiful, wild, and strange—Meroe Island is a desolate spot in the middle of the Pacific Ocean with a mysterious history of shipwrecks, cannibalism, and even rumors of murder. It's the perfect destination for the most adventurous traveler to escape everything… except the truth.
SIX VISITORS
Six stunning twentysomethings are about to embark on a blissful, free-spirited journey—one filled with sun-drenched days and intoxicating nights. But as it becomes clear that the group is even more cut off from civilization than they initially thought, it starts to feel like the island itself is closing in, sending them on a dangerous spiral of discovery.
COUNTLESS SECRETS
When one person goes missing and another turns up dead, the remaining friends wonder what dark currents lie beneath this impenetrable paradise—and who else will be swept under its secluded chaos. With its island gothic sensibility, sexy suspense, and spine-tingling reimagining of an Agatha Christie classic, Reckless Girls will wreck you.
MY THOUGHTS
It was supposed to be a fun boat ride to an idyllic, secluded island. A way for Lux, Nico, and the two girls that hired them, to go off the grid for a little R&R.
Well, you know being stuck on secluded islands never turn out well!
At first, it's all fun and games when another couple shows up on their luxurious boat. Jake and Eliza are the golden couple, all tanned and blonde and eager to share their high-priced wine and gourmet food. The couples and Amma and Brittany, the rich tourists enjoy a few sun-fueled days, swimming in the ocean, exploring the jungle and drinking beside bonfires at night.
Enter Robbie. The cozy little group is thrown off by this interloper and that's when things start to go off the rails.
Reckless Girls had just the right amount of creep factor, suspense, and atmosphere. It was a quick read that I still can't stop thinking about.
Thanks to NetGalley and St. Martin's Press for this advance reader's copy from one of my favorite authors!