The Reading List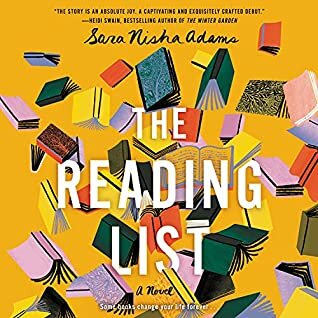 The Reading List
by Sara Nisha Adams
Published August 3, 2021
by William Morrow
Rating: 5 Stars ⭐⭐⭐⭐⭐
Genre: General Fiction (Adult) / Multicultural Interest / OwnVoices
From The Publisher:
Widower Mukesh lives a quiet life in the London Borough of Ealing after losing his beloved wife. He shops every Wednesday, goes to Temple, and worries about his granddaughter, Priya, who hides in her room reading while he spends his evenings watching nature documentaries.
Aleisha is a bright but anxious teenager working at the local library for the summer when she discovers a crumpled-up piece of paper in the back of To Kill a Mockingbird. It's a list of novels that she's never heard of before. Intrigued, and a little bored with her slow job at the checkout desk, she impulsively decides to read every book on the list, one after the other. As each story gives up its magic, the books transport Aleisha from the painful realities she's facing at home.
When Mukesh arrives at the library, desperate to forge a connection with his bookworm granddaughter, Aleisha passes along the reading list…hoping that it will be a lifeline for him too. Slowly, the shared books create a connection between two lonely souls, as fiction helps them escape their grief and everyday troubles and find joy again.
My Thoughts:
The Reading List is a heartwarming story and a paean to the power of books and libraries. The power of community is another strong theme in this book. At the heart of the story are two families in a residential area of London, very different but both dealing with grief of different sorts in different ways. Mukesh is a widower with three grown daughters and three grandchildren. His wife Naina died of cancer not long before the story begins. Aleisha is a 17-year-old working at the local library branch for the summer between school years. She has a hard life, as she and her older brother Aiden have to take turns taking care of their mother, who has had some sort of mental health breakdown. Their father is remarried and they don't see him very often at all. Since this is a novel, of course Mukesh and Aleisha's paths converge. Since the title of the book is The Reading List, it's not a spoiler to say that Aleisha finds a handwritten reading list of eight well-known books and winds up reading them and recommending them to Mukesh, as he is trying to understand his wife's lifelong love of books. A beautiful friendship blossoms between them, which is especially lovely due to their differences in ethnic backgrounds and ages. The items on the list were mostly quite familiar to me (To Kill A Mockingbird, Little Women, Beloved, The Time Traveler's Wife, etc.) but the final one, A Suitable Boy was unknown to me and now I want to find it and read it!
While I received the eARC from NetGalley, I wound up mostly listening to the published audiobook by Harper Audio. The narrators did an excellent job with the many voices, bringing all the characters to life: Tara Divina, Sagar Arya, and Paul Panting. I really loved the accent the narrator used for Mukesh, which really gave a great "flavor" to his part of the story.