Cul-De-Sac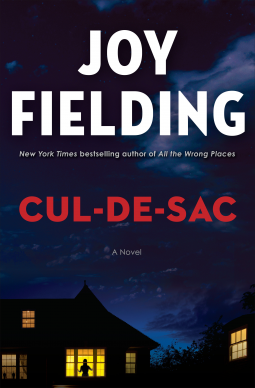 Cul-De-Sac
by Joy Fielding
Published August 10, 2021
by Ballantine Books
Rating: 4 Stars ⭐⭐⭐⭐
Genre: Mystery & Thriller
From the Publisher
Someone on this quiet, unassuming cul-de-sac will be shot dead in the middle of a sultry July night.
Will it be Maggie, the perfectionist wife, or Craig, the husband who can't quite live up to her expectations? They've packed up their two children and fled their life in California, hoping for a fresh start in Florida, only to find the demons of the past hovering on their doorstep.
Maybe it will be Nick, a highly respected oncologist, or his wife, Dani, a successful dentist, both with well-kept secrets of their own.
Or perhaps the victim will be Julia, an elderly widow, whose troubled grandson has recently moved in with her, introducing unsavory habits and even more unsavory acquaintances into her formerly quiet existence.
Then there's Olivia and her husband, Sean. Having lost his job at a prestigious advertising agency, Sean is depressed, resentful of his working wife, and drinking heavily. He is also prone to increasingly violent fantasies.
And what of the newlyweds, Aiden and Heidi, whose marriage is already on the rocks, due to Aiden's reluctance to stand up to his intrusive mother? Matters aren't helped when Heidi befriends Julia's grandson, setting the stage for a major blowup.
A diverse group of neighbors, to be sure. Yet all harbor secrets. All bear scars. And all have access to guns.
Not all will survive the night.
My Thoughts
So many characters! So many guns!
The cul-de-sac of the title of a seemingly quiet street outside of Palm Beach, Florida. Cul-de-sacs are known in the U.S. as great places to raise kids due to their lack of traffic. They are often places where neighbors are friendly with each other, the kids grow up together, and block parties are common.
So, what happens when families have secrets they don't want their neighbors to know? Nothing stays hidden for very long in this horseshoe shaped street. There's one neighbor who is always looking out the window. Another who sneaks off when her mother is gone. One who isn't the nice, loving husband he appears to be. Another one brings unseemly elements into the neighborhood. And another who totes a gun wherever she goes. And one is fighting the side effects of PTSD. And they all have motives for using their weapons.
At first, I was afraid I wouldn't be able to keep all of the characters straight, but Fielding does a great job of developing the characters so that they all have a distinct role in the unfolding drama. The author has managed to develop an amalgamation of all the personality flaws you might find in a community, so if you are sensitive to triggers, read with caution.
Thanks to NetGalley and Random House Publishing/Ballantine Books for an advance reader's copy.