Such a Good Wife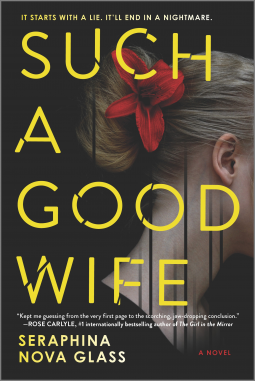 Such a Good Wife
by Seraphina Nova Glass
Published August 10, 2021
by Harlequin
Rating: 4 Stars ⭐⭐⭐⭐
Genre: Mystery & Thrillers
From the Publisher

Betrayal was just the beginning…
Melanie Hale is a devoted mother to her two children, a diligent caregiver to her ailing mother-in-law and a trusted neighbor in their wealthy Louisiana community. Above all, she's a loving partner to her wonderful husband, Collin.
Then there are the parts of herself that Mel keeps hidden. She's exhausted, worried and unfulfilled. So much so that one night, after a writers' group meeting, Mel begins an affair with a successful local author named Luke. Suddenly she's transformed into a role she doesn't recognize—a woman who deceives with unseemly ease. A woman who might be capable of just about anything.
When Mel finds Luke's dead body in his lavish rented house, she realizes just how high the stakes have become. Not only does she have to keep her affair a secret in order to preserve her marriage, but she desperately needs to avoid being implicated in Luke's death. But who would want to kill him? Who else in her life is keeping secrets? And most terrifying of all, how far will they—and she—go to keep those secrets hidden?
My Thoughts

Think of your worst nightmare. Now imagine the worst way of your spouse finding out you are having an affair. Combine these, and you have Such a Good Wife!
Mel is a "good wife'. She takes care of her kids, house, and her ailing mother-in-law. She is proud of the fact that she manages her household well, but her husband encourages her to pursue her desire to write by joining a local writer's club, she is captivated by the author doing a book reading across the room. The author notices her and gifts her his book, which she proceeds to hide in her nightstand when she gets home. She's already feeling guilty and that isn't even the tip of the iceberg. But Mel is a terrible liar. Even while she can feel the blush creeping up her chest, she still thinks she's pulled off the lies that follow. But her husband can tell Mel is troubled and he gives her every chance in the world to tell him what's going on.
When Mel is finally forced to reveal her secret, the secrets that follow are explosive.
I was slightly troubled by the fact that the mother-in-law seemed to be left alone (sleeping) much of the time, and it also seemed like Mel had a lot of disposable time. But if you can ignore that because the story was so suspenseful, and I couldn't wait to find out what happened. It was well worth the wait!
Thanks to NetGalley and Harlequin/Graydon House for an advance reader's copy.