The Trapped Wife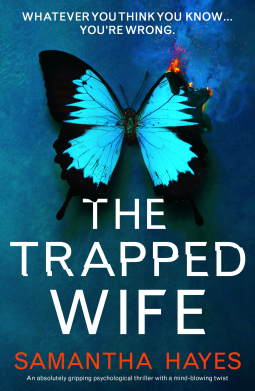 The Trapped Wife
by Samantha Hayes
Published September 8, 2021
by Bookouture
Rating: 4 Stars ⭐⭐⭐⭐
Genre: Mystery & Thriller
From the Publisher
My family gathers around the large oak table in our beautifully renovated home. I've put on a dress and lit candles, and there's a wonderful aroma coming from the dinner you've so lovingly prepared. I feel your hand squeeze mine as you top up my glass and ask about my day as a doctor in our small town. It's the perfect domestic scene, except for one tiny fact: I think my husband is dead, and you are just another patient of mine…
I had no choice but to let you in. If I laugh at your jokes and run my fingers through your hair, maybe I can delete the photos on your phone and find the truth about the night I can't remember, just before my husband left on the trip he never returned from. Perhaps my son and I will have a chance at a normal life again.
But as I carefully piece together the shards of what really happened that fateful night, only one thing can possibly be true: everyone is lying, even me…
My Thoughts
I'm pretty sure I was screaming in my head at the main character, Jen, when she feels she has to be nice when Scott, the man from her one-night stand shows up. She's an intelligent woman, a doctor, grieving for her husband who died a short while ago. Why does she put up with his attempt to wriggle into her life? But there are so many complications surrounding that night that result in what happens next.
At first, I was confused by the intervening chapters that take place in the past, though I was pretty sure I knew who one of the characters was as an adult. And there's a little bit of a red herring that allows you to believe that Scott is looking for revenge. While some of the ending was predictable, the twists will knock you over in the end.
Some parts of the book are truly cringeworthy, and I won't give them away since they are part of the reveal, but just note that there should be trigger warnings. All in all, this was a tense read, and yes, comparisons to Gone Girl are accurate!
Thanks to NetGalley and Bookouture for an advance reader's copy.