Her Perfect Life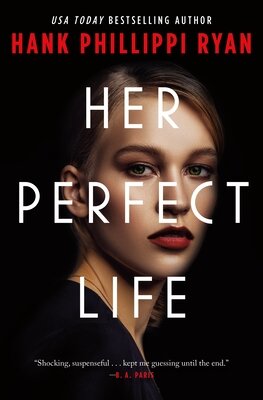 Her Perfect Life
by Hank Phillippi Ryan
September 14, 2021
by Forge Books
Rating: 4 Stars ⭐⭐⭐⭐
Genre: Mystery & Thriller
Everyone knows Lily Atwood—and that may be her biggest problem. The beloved television reporter has it all—fame, fortune, Emmys, an adorable seven-year-old daughter, and the hashtag her loving fans created: #PerfectLily. To keep it, all she has to do is protect one life-changing secret.
Her own.
Lily has an anonymous source who feeds her story tips—but suddenly, the source begins telling Lily inside information about her own life. How does he—or she—know the truth?
Lily understands that no one reveals a secret unless they have a reason. Now she's terrified someone is determined to destroy her world—and with it, everyone and everything she holds dear.
How much will she risk to keep her perfect life?
Courtney's Thoughts:
Have you ever wanted a perfect life? A perfect child? A perfect job? That's exactly what Lily Atwood had. At least on the outside. With her sweet daughter, perfect looks, and her dream job as a reporter. She's even won multiple Emmy's. What the world doesn't know is that when she was seven, her sister went missing and twenty years later, she still hasn't been found. Now she's getting mysterious phone calls and her "perfect" life just might begin to unravel.
Ryan's books have always intrigued me, but this is the first one I've sat down and read. I really enjoyed it. Sometimes with multiple narrators, it sometimes gets a bit confusing to read. However, Ryan did a really good job of making it really clear and easy to read. I love a story with multiple story lines and loose ends. It gives the reader the opportunity to make wild speculations and keep their brain working throughout the entire book. I figured out a few of the twists before they were revealed which is the only reason I gave it four stars instead of five. Otherwise, it was a really enjoyable book.
Huge thank you to Hank Phillippi Ryan, Forge Books, and NetGalley!