A Most Clever Girl: a novel of an American Spy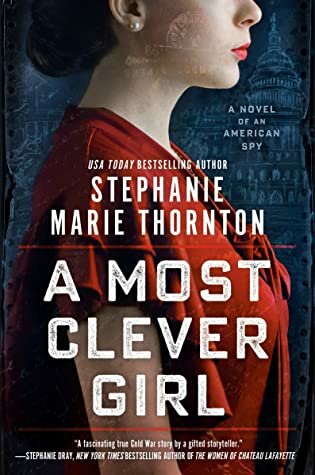 A Most Clever Girl: a novel of an American Spy
Stephanie Marie Thornton
Publication date: September 14, 2021 by Berkley Books
Genre: Historical Fiction
Rating: 5 Stars ⭐⭐⭐⭐⭐
1963: Reeling from the death of her mother and President Kennedy's assassination, Catherine Gray shows up on Elizabeth Bentley's doorstep demanding answers to the shocking mystery just uncovered about her family. What she doesn't expect is for Bentley to ensnare her in her own story of becoming a controversial World War II spy and Cold War informer…
Recruited by the American Communist Party to spy on fascists at the outbreak of World War II, a young Bentley–code name Clever Girl–finds she has an unexpected gift for espionage. But after falling desperately in love with her handler, Jacob Golos, Elizabeth makes another unexpected discovery when she learns her lover is actually a Russian spy. Together, they will build the largest Soviet spy network in America and Elizabeth will become its uncrowned Red Spy Queen. However, once the war ends and the U.S. and U.S.S.R. become embroiled in the Cold War, it is Elizabeth who will dangerously clash with the NKVD, the brutal Soviet espionage agency.
As Catherine listens to Elizabeth's harrowing tale, she empathizes with her, that is, until she uncovers startling revelations that link the two women's lives in shocking ways. Faced with the idea that her entire existence is based on a lie, Catherine realizes there can be many sides to the truth. And only Elizabeth Bentley can tell her what that truth really is.
My Thoughts: Oh my, oh my, oh my. Stephanie Thornton is one of those writers who can write successfully about any time period. In this latest release Thornton gives readers the tale of Elizabeth Bentley, a Cold War double agent spy in the United States. Thornton humanizes Bentley and the choices she made along the way but doesn't necessarily lead the reader to forgive Bentley's choices. The release of hundreds of previously sealed documents permitted Thornton the opportunity to provide an expertly researched look inside this little known woman's life. This is a book that jolts the reader from page one and continues with the energy of a Red Bull until the end. In using a first person narrative, Thornton almost has the reader encouraged to believe that Bentley is speaking directly to them. As historical fiction shifts to covering more recent people and events, this book is going to be the among the gold standards.
Thanks to NetGalley for an advance copy of this book.