The Collector's Daughter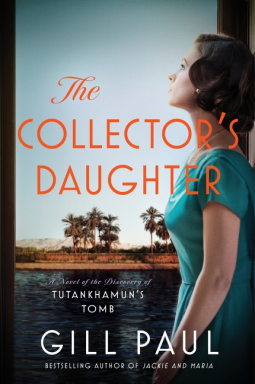 The Collector's Daughter: A Novel of the Discovery of Tutankhamun's Tomb
Gill Paul
Publication Date: September 7, 2021 by William Morrow Paperbacks
Genre: Historical Fiction
Rating: 5 stars ⭐⭐⭐⭐⭐
Lady Evelyn Herbert was the daughter of the Earl of Carnarvon, brought up in stunning Highclere Castle. Popular and pretty, she seemed destined for a prestigious marriage, but she had other ideas. Instead, she left behind the world of society balls and chaperones to travel to the Egyptian desert, where she hoped to become a lady archaeologist, working alongside her father and Howard Carter in the hunt for an undisturbed tomb.
In November 1922, their dreams came true when they discovered the burial place of Tutankhamun, packed full of gold and unimaginable riches, and she was the first person to crawl inside for three thousand years. She called it the "greatest moment" of her life—but soon afterwards everything changed, with a string of tragedies that left her world a darker, sadder place.
Newspapers claimed it was "the curse of Tutankhamun," but Howard Carter said no rational person would entertain such nonsense. Yet fifty years later, when an Egyptian academic came asking questions about what really happened in the tomb, it unleashed a new chain of events that seemed to threaten the happiness Eve had finally found.
My Thoughts:
Ancient Egypt + the owners of Highclere Castle of Downton Abbey fame = SUCCESS!!
Gill Paul writes a fictionalized story surrounding the people behind the discovery of Tutankhamun's tomb. While much has been written about Egyptologist Howard Carter, this story revolves around the family who financed the expedition. George Herbert, 5th Earl of Carnarvon, passed his love of Egyptian culture to his daughter Evelyn. At a young age Evelyn, aka Eve, wanted to become an Egyptologist. When Howard Carter makes a discovery while digging in the Valley of the Kings, Eve and her father rush to the site to witness the breaking of the seals. From this point on all three lives are irrevocably changed. With an exceptional eye to detail, Paul describes the contents of the tomb with stunning clarity and acknowledges the amount of effort Carter put into cataloging everything accurately. Paul balances fact and fiction beautifully as the story develops. Were objects taken from the tomb or did they just become misplaced over the years? Was there really a curse or was misfortune simply a product of life choices and environment? Who really is the mysterious woman who claims to be an Egyptian academic? Wonderfully absorbing read with a heartbreaking ending.
I received a copy of this title via NetGalley.