Be My Ghost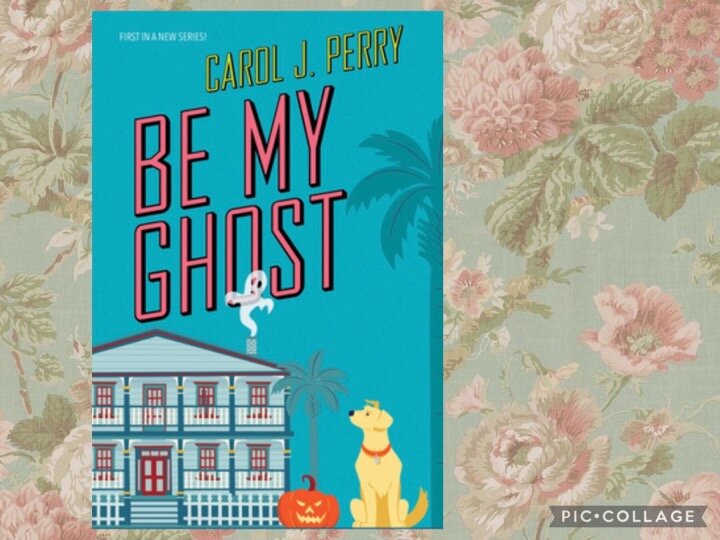 Be My Ghost (A Haunted Haven Mystery #1)
by Carol J. Perry
Published August 31, 2021
by Kensington
Rating: 4 Stars ⭐⭐⭐⭐
Genre: Mystery / Cozy Mystery
From The Publisher:
Maureen's career as a sportswear buyer hits a snag just before Halloween, when the department store declares bankruptcy. Meanwhile, Finn's lost his way as a guide dog after flunking his test for being too friendly and easily distracted. Sadly, only one of them can earn unemployment, so Maureen's facing a winter of discontent in Boston–when she realizes she can't afford her apartment.
Salvation comes when she receives a mysterious inheritance: an inn in Haven, Florida. A quaint, scenic town on the Gulf of Mexico hidden away from the theme parks, Maureen believes it's a good place to make a fresh start with a new business venture. But she gets more than she bargained for when she finds a dead body on her property–and meets some of the inn's everlasting tenants in the form of ghosts who offer their otherworldly talents in order to help her solve the mystery.
My Thoughts:
A very promising start to a new cozy mystery series, featuring ghosts. I loved the Florida Gulf Coast setting – a small beach town near St. Petersburg, FL. The main character, Maureen, is a retail buyer who just lost her job due to the collapse of "brick and mortar" retails stores such as the Boston department store where she worked for a number of years. Luckily (?), she inherits an old Florida inn from someone she doesn't know. So right from the start, we have a mystery to solve: why was Maureen the one to inherit the Haven House Inn?
Once she relocates to Haven, FL, with her golden retriever, Finn, things get going quickly. Who killed one of the hotel guests, a professional ghost hunter, and why? I really enjoyed the main character and the long-term residents of the hotel, including Ted, the handsome chef and sometime-bartender. Elizabeth, the manager, is quite resentful of Maureen – she thinks she should have been the one to inherit the inn. There is at least one ghost who makes regular appearances and she's charming! While I did guess one of the culprits, I did not foresee all the twists and turns. I look forward to reading whatever Carol J. Perry writes next!