Heard It In A Love Song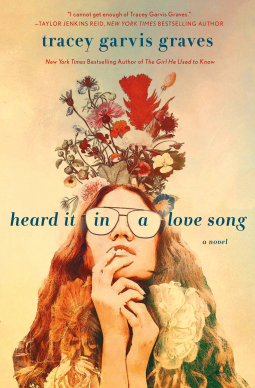 Heard It In A Love Song
by Tracey Garvis Graves
To Be Published November 9, 2021
by St. Martin's Press and Macmillan Audio
Rating: 4 Stars ⭐⭐⭐⭐
Genre: Romance / Women's Fiction
From the Publisher:
Layla Hilding is thirty-five and recently divorced. Struggling to break free from the past — her glory days as the lead singer in a band and a ten-year marriage to a man who never put her first — Layla's newly found independence feels a lot like loneliness.
Then there's Josh, the single dad whose daughter attends the elementary school where Layla teaches music. Recently separated, he's still processing the end of his twenty-year marriage to his high school sweetheart. He chats with Layla every morning at school and finds himself thinking about her more and more.
Equally cautious and confused about dating in a world that favors apps over meeting organically, Layla and Josh decide to be friends with the potential for something more. Sounds sensible and way too simple — but when two people are on the rebound, is it heartbreak or happiness that's a love song away?

My Thoughts:
What a refreshing read! It sucked me right in and I had a hard time putting it down. We have two main characters in their 30s, both divorced or separated, and trying to figure out what comes next for them both. You could categorize it as a "friends to lovers" romance, but that would be doing the story a disservice, as it is so much more than that. Layla in particular needs to recover from a marriage with a domineering man and needs to figure out who she is now – she once starred in a local band and loved performing in clubs but hasn't done it in a rather long time. She now works as an elementary school music teacher. Josh has his act more together in terms of career because he's a pretty successful electrician with his own business – but he's still tied to his soon-to-be ex-wife because of the mutual love they have for their kindergartener daughter, Sasha. They are both gradually adjusting to their newly single, more solitary lives.
Throughout the book, there are flashbacks, so we gradually learn the events that made Layla and Josh who they are today. This was quite an effective technique because each flashback was brought on by something that happened or was said in the present timeline.
This is the first book I've read by this author and I am looking forward to reading more of her work in the future.
I bounced between the audiobook and the ebook for this title, which was very convenient, and one reason I sped through it so quickly. The audiobook's narrator is Andi Arndt and she did a fine job with both the female and male voices, but it was harder to distinguish between the current-day timeline and the flashbacks on the audio. The ebook galley I read has the flashbacks in italic type, so that was an easy and obvious signal that I was reading a flashback. Once or twice on the audiobook I realized a bit late that I was hearing a flashback – not at all the narrator's fault, though.
Thank you to St. Martin's Press and NetGalley for the opportunity to read an advance reader copy of this book and to Macmillan Audio and NetGalley for the opportunity to listen to an advance copy of this audiobook.