The Murder Box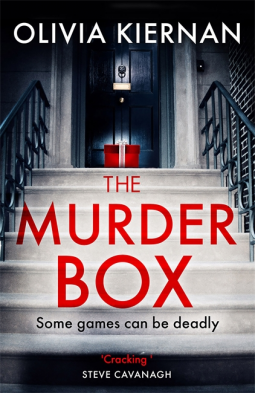 The Murder Box
by Olivia Kiernan
Published July 22, 2021
by Quercus Books/riverrun
Rating: 5 Stars ⭐⭐⭐⭐⭐
Genre: Mystery & Thriller, Police Procedural
From the Publisher:
At first, Detective Chief Superintendent Frankie Sheehan believes the murder mystery game sent to her office is a birthday gift from one of her colleagues. But when Frankie studies the game's contents, she notices a striking resemblance between the 'murder victim' and missing twenty-two-year-old Lydia Callin.
As Frankie and her team investigate, a series of grisly crimes connected to the game are discovered across Dublin city and Lydia's involvement with a shadowy network of murder mystery players becomes clear.
On the hunt for Lydia's murderer, Frankie is drawn more deeply into the game. Every successful move brings her closer to the killer. But the real question is not what happens should she lose — but what happens if she wins.
My Thoughts
Oh my goodness, how did I not know about this author before!
I often bypass police procedurals, but if you are a fan of interactive or "escape the room" type you will be enthralled with this book.
When Detective Chief Superintendent Frankie Sheehan receives a "murder box" game, she unwittingly becomes enmeshed in a countdown as she tries to unravel the clues in the game. How did the game creator have access to the details of a crime? Is there really a victim or is the victim also the suspect? Who are the other players and are they knowingly part of the game, or is one of them even the creator of the game?
Technology allows the police to uncover the details about the players, a major revelation that moves the game forward, but there are some red herrings that create obstacles. There's just one catch – they must solve the game before the countdown ends….
Sometimes a title doesn't always reveal the fact that a book is part of a series, but that didn't matter here (other than to let me know that I missed out on the first three books!).
I am very grateful to NetGalley and Quercus Books/riverrun for an advance reader's copy of this book.