The Oath (The Druid Chronicles, #1)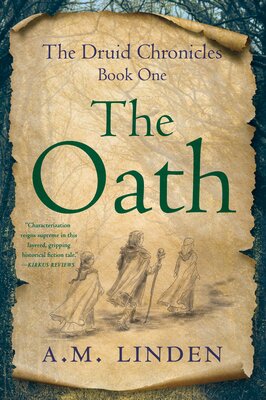 A. M. Linden
Publication date: June 15, 2021 by She Writes Press
Genre: Historical Fiction
Rating: 4 stars ⭐⭐⭐⭐
When the last of members of a secretive Druid cult are forced to abandon their hidden sanctuary, they send the youngest of their remaining priests in search of Annwr, their chief priestess's sister, who was abducted by a Saxon war band fifteen years ago. With only a rudimentary grasp of English and the ambiguous guidance of an oracle's prophecy, Caelym manages to find Annwr living in a hut on the grounds of a Christian convent.
Annwr has spent her years of captivity caring for the timid Aleswina, an orphaned Saxon princess who was consigned to the cloistered convent by her cousin, King Gilberth, after he assumed her father's throne. Just as Caelym and Annwr are about leave together, Aleswina learns that Gilberth, a tyrant known for his cruelty and vicious temper, means to take her out of the convent and marry her. Terrified, she flees with the two Druids–beginning a heart-pounding adventure that unfolds in ways none of them could have anticipated.
My Thoughts:
This book is a richly described journey that will enthrall readers. While it starts off slowly, the author quickly develops the main characters and provides the context for the underlying story. This is a story of a clash of cultures at its best. The Druid Caelym is attempting to succeed in his mission to "rescue" Annwr and his children. The Druid priestess/Saxon slave/nursemaid Annwr struggles with her memories of the life she was ripped away from compared to the simplistic life she currently has. Aleswina the Christian novice grapples with the knowledge of Annwr's past, life outside the convent, and all that Caelym exposes her to. The ever present threat of politics looms over the trio as they seek safety.
The author skillfully wove Druid traditions into the character development of both Caelym and Annwr. There is also a glimpse as to the persecution of the Druid way of life by their Christian counterparts. The continuing travels of the companions prove to be fodder for some epic storytelling in the future installments of this series.
I received an advanced copy of this title via the publisher.