Just One Look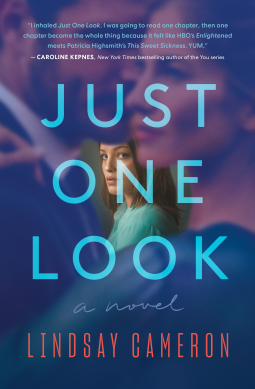 Just One Look
by Lindsay Cameron
Published July 27, 2021
by Random House/Ballantine Books
Rating: 5 Stars ⭐⭐⭐⭐⭐
Genre: Mystery & Thrillers
From the Publisher
Cassie Woodson is adrift. After suffering an epic tumble down the corporate ladder, Cassie finds the only way she can pay her bills is to take a thankless temp job reviewing correspondence for a large-scale fraud suit. The daily drudgery amplifies all that her life is lacking—love, friends, stability—and leaves her with too much time on her hands, which she spends fixating on the mistakes that brought her to this point.
While sorting through a relentless deluge of emails, something catches her eye: the tender (and totally private) exchanges between a partner at the firm, Forest Watts, and his enchanting wife, Annabelle. Cassie knows she shouldn't read them. But it's just one look. And once that door opens, she finds she can't look away.
My Thoughts
Cassie reminded me of a female Joe. And if YOU read psychological thrillers, YOU know who I mean!
Oh my gosh! This book takes stalking to the nth degree! Cassie's first job as a lawyer at a prestigious law firm was derailed after the stress of family and relationships caused her to have a breakdown. But now she's temping as a document review lawyer and is determined to keep her head down so her high-profile gaffe isn't discovered. But a glitch in the data review leads her to a backdoor into the life of one of the elite lawyers at the firm. And now everything is about to get crazy.
Maybe a little garden variety "checking out their house and lifestyle" is tolerable, but when Cassie spends money she doesn't have to acquire objects that Forest and his wife Annabelle own/drink/wear I actually cringed at the thought of what would happen when her charge card came due. Now Cassie dresses like, smells like and poses like Annabelle and is figuratively patting herself on the back. But she has no idea what is about to go down!
I'm pretty sure I was holding my breath through the last third of the book, and the ending will leave you gasping! And running to change your passwords!