You Can Never Tell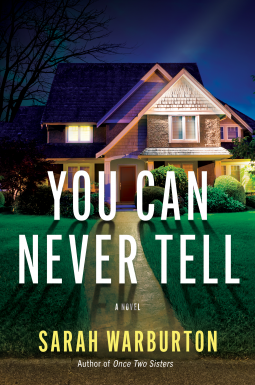 You Can Never Tell
by Sarah Warburton
Published August 10, 2021
by Crooked Lane Books
Rating: 4 Stars ⭐⭐⭐⭐
Genre: Mystery & Thriller
From The Publisher
Framed for embezzlement by her best friend Aimee, museum curator Kacy Tremain and her husband Michael move from New Jersey to a charming Texas suburb to escape their past. Kacy quickly makes new friends–preppy, inscrutable Elizabeth, chatty yet evasive Rahmia, and red-headed, unapologetic Lena. But good friends aren't always what they seem.
As she navigates the unexpectedly cutthroat social scene of her new town, Kacy begins to receive taunting postcards–and worse, discovers cameras hidden in the wall of her home. Lena and her husband, Brady, reassure her that the cameras are just relics of the paranoid previous homeowner . Once the cameras are removed and Kacy's fears are quelled, Kacy and Michael make the happy discovery that they are going to be new parents.
Months after the birth of their daughter, Michael accidentally makes a shocking discovery about Brady's past. And when Lena suddenly goes missing, Kacy and Michael begin to uncover the truth about their neighbors–and it's more terrible than anyone could have imagined.
Interlaced with transcripts of a chilling "true crime" podcast that follow the tangled threads of the drama, You Can Never Tell is a taut and complex psychological thriller that never lets up until its breathless conclusion.
My Thoughts
Kacy is the ultimate friend. She's loyal, but also naïve. That's why she's had to move with her husband from New Jersey to Texas after her best friend sets her up.
But now she's in a neighborhood with socially active women and starts to let her guard down as she develops new friendships. Her neighbor Lena is like minded and takes her side with some of the pettiness that happens within their group.
As we learn about Kacy's life in Texas, her friendships, and her pregnancy, the book is interspersed with transcripts of a podcast about a local crime. Some of the podcasts are predictors of what is to come, but also provide speculation about motivations for the crimes. So, you can pretty much guess what's coming!
The book moved along at a good pace. The ending was a little over the top with Kacy playing detective, but at the same time it had a tense denouement and tied together perfectly.
Thanks to NetGalley and Crooked Lane Books for an advance reader's copy.