What She Knew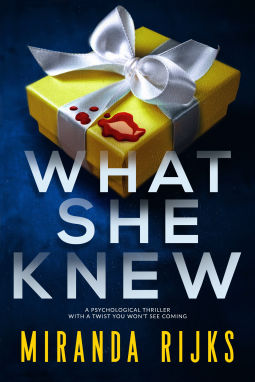 What She Knew
by Miranda Rijks
Published July 18, 2021
by Inkubator Books
Rating: 5 Stars ⭐⭐⭐⭐⭐
Genre: Mystery/Thriller
DESCRIPTION

Nine years ago, Stephanie's best friend vanished. Now she's back to haunt her.
Life has been good to Stephanie. Married to college professor, Oliver, with two adorable children, she lives in a lovely house, surrounded by beautiful things.
It hasn't always been like this.
Nine years ago, Stephanie's flatmate Alison vanished, presumed murdered. It was a horrible time, and Stephanie tries hard not to think about it.
But when a TV researcher working on a true crime series wants to interview her about the case, Stephanie is forced to confront the past and recognize that she has a deep need to answer one burning question – what happened to Alison?
It soon becomes clear that someone doesn't want her digging for the truth and is willing to do anything to conceal a shocking web of lies. As her perfect life unravels, Stephanie realizes that by opening a door into the past she has woken a sleeping monster. And now it's her own life that is on the line…
My Thoughts
It's official! Miranda Rijks is one of my top ten favorite authors!
With What She Knew, Rijks has created a tightly suspenseful novel. While there are just a few characters, all of them are suspects in the disappearance of Alison, a student at the time who lived in the same apartment as Stephanie. While Stephanie has mostly gotten over nightmares about what might have happened, she still questions why Alison's boyfriend Josh was convicted. And when an investigative journalist comes around asking questions, Stephanie's nightmares resurface.
While Stephanie begins to question what her husband is keeping from her, she's hiding some whopper secrets of her own. It was great to see the progression as Stephanie stands up for herself in her efforts to get to the truth. The ending was fast paced and unpredictable.
Thanks to NetGalley and Inkubator Books for another wonderful review copy.