Cold Brew Corpse (A Coffee Lover's Mystery #2)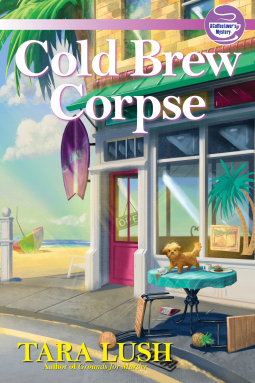 Cold Brew Corpse (A Coffee Lover's Mystery #2)
by Tara Lush
Published December 7, 2021
by Crooked Lane Books
Rating: 4 Stars ⭐⭐⭐⭐
Genre: Cozy Mystery

From The Publisher:
It's a steamy September, and business is brisk at Perkatory, the hottest coffee shop in Devil's Beach, FL. Much of the clientele pours in from Dante's Inferno, the hot yoga studio next door. But the bright, sunny Gulf Coast days turn decidedly dark-roast when the body of the studio's owner turns up in a nearby swamp.

Between running Perkatory and training Stanley, her golden Shih Tzu puppy, reporter-turned-barista Lana Lewis is too busy to go sleuthing. But when the editor of the local paper asks her to write about the murder, Lana's dreams of getting back into journalism start to percolate.

Lana discovers that the yogi has a nefarious past and her share of mug shots, so grinding her way through the suspect list is a large task. She learns that the victim was fatally beaned by an SUV before she was dumped in the swamp. But was the killer one of her students? An envious yoga teacher? Or a local photographer who seems to know too much?

But no one tells Lana Lewis what to do. Hunting the caf-fiend who killed the yogi puts Lana and Chief Noah's relationship–and Lana's life–in very hot coffee. 
My Thoughts:
Cold Brew Corpse is a terrific follow-up to last year's Grounds for Murder, the second book in a cozy mystery series set on an island off Florida's Gulf Coast (possibly modeled after Sanibel). The main character, Lana, has a journalism background which makes for a believable sleuth, even though she's now running a coffee shop in her home town, after having been laid off from a big Miami paper. The population of Devil's Beach is quite a mixture of people: some she's known all her life and some newcomers. I enjoyed revisiting the people who look like they'll be series regulars, including Lana's aging hippie dad, and of course, the local police chief, Noah Garcia, who is Lana's love interest. Another recurring "character" is Lana's puppy Stanley This definitely works as a standalone, but of course, as with any series, if you read them in order, you get more backstory.
This time there are two mysteries: the main one (who killed the local yoga instructor and spiritual guru, Raina Rose); and a smaller one (why is Lana's wonderful cold brew coffee suddenly tasting horrible). There's a fair amount of coffee talk (understandable!) and some lovely descriptions of the local scenery. I love Florida's Gulf Coast, so that's another plus for this series.