The Mrs. Tabor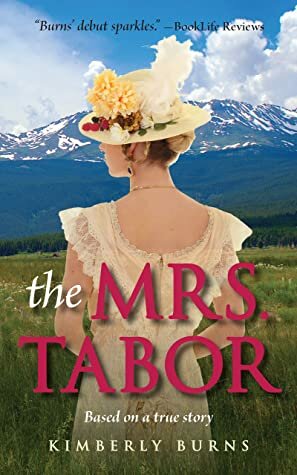 The Mrs. Tabor
Kimberly Burns
Publication date: September 10, 2021 by Thomas Bard Publishing LLC.
Genre: Historical Fiction
Rating: 5 stars ⭐⭐⭐⭐⭐
Every age has its iconic blonde bombshell. In the 1880s, it's Baby Doe, America's original gold digger. At a time when genteel ladies could politely starve to death, Baby Doe seeks her fortune the best way she knows how-marrying a rich man. She joins the rush to the Colorado silver bonanza and meets millionaire mine owner Horace Tabor. Baby Doe enjoys the high life as his paramour, but Tabor's wife and his business manager plot to get rid of the new girl. Baby Doe, however, has schemes of her own to upend Horace's old relationships and become the one and only Mrs. Tabor.
But fate sweeps in and avalanches Baby Doe's dreams. What price will she pay for becoming The Mrs. Tabor?
Based on a true story, The Mrs. Tabor seduces with a scandalous tale of love and fortunes found and lost.
My Thoughts:
So who is "The" Mrs. Tabor? If the terms supportive, formidable, determined, and committed to their marriage are used one still wouldn't be sure. The author coaxes the reader along throughout the entirety of the book to assist in determining who it is. Ultimately the answer is Baby Doe Tabor. Burns does several things with the plot that are worth noting. She doesn't just offer a chronological look at any of the characters' lives. Burns provides glimpses into each person's identity, be it good or bad, and how those individual identities form the path for each of the others. This book gives modern readers a passing glance at boom towns and the cultural development of Denver while also shining light on the forgotten Horace Tabor and his seemingly femme fatale second wife Baby Doe.
Baby Doe herself led just as colorful of a life before and after her marriage to Horace as she did during her marriage. Her beauty provided her with opportunities while also opening her up to scorn. In attempting to better her life and achieve financial security, Baby Doe made choices that were not accepted by society. As a result, Baby Doe had to constantly battle to be acknowledged. Her behavior ultimately led to being dismissed by her own family and living a life of solitude and poverty. This book is as formidable a debut as Baby Doe herself.
I received a copy of this book via the publisher in collaboration with Historical Fiction Virtual Book Tours.