The Whirlpools of Time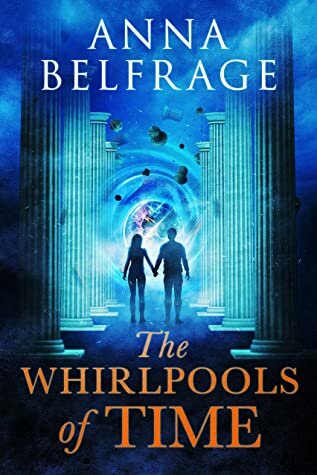 The Whirlpools of Time (The Locket Series, Book 1)
Anna Belfrage
Publication date: June 11, 2021 by Timelight Press
Genre: Time Travel Romance
Rating: 4 stars ⭐⭐⭐⭐
It is 1715 and for Duncan Melville something fundamental is missing from his life. Despite a flourishing legal practice and several close friends, he is lonely, even more so after the recent death of his father. He needs a wife—a companion through life, someone to hold and be held by. What he wasn't expecting was to be torn away from everything he knew and find said woman in 2016…
Erin Barnes has a lot of stuff going on in her life. She doesn't need the additional twist of a stranger in weird outdated clothes, but when he risks his life to save hers, she feels obligated to return the favour. Besides, whoever Duncan may be, she can't exactly deny the immediate attraction.
The complications in Erin's life explode. Events are set in motion and to Erin's horror she and Duncan are thrown back to 1715. Not only does Erin have to cope with a different and intimidating world, soon enough she and Duncan are embroiled in a dangerous quest for Duncan's uncle, a quest that may very well cost them their lives as they travel through a Scotland poised on the brink of rebellion.
Will they find Duncan's uncle in time? And is the door to the future permanently closed, or will Erin find a way back?
My Thoughts:
While this book is the first in a new series it expands on the lives of characters that were introduced in the author's very successful Graham Saga Series. If one chooses not to read that previous series first, one may find themselves confused at the opening chapters. This was indeed what my predicament was. I didn't find myself comfortable with the plot or pace until the main character Duncan Melville comes upon his unfortunate circumstance. Luckily this is pretty early on in the book.
The extremes of Erin's life are truly over the top. She has crossed paths with the most underhanded influential family in town. All they want is an heirloom passed down to her from her deceased father that they claim is rightfully theirs. In a late night escape from their grasps, Erin runs into Duncan; or one should rightly say runs OVER Duncan. As Duncan recovers from his experience he learns of the level of danger that Erin is in over the heirloom locket. The two form a predictable bond. In one fell swoop Duncan and Erin experience roll reversals. Their ability to get into trouble doesn't abate and they continually find themselves up against insurmountable odds. The new romance experiences plenty of challenges but despite that, or maybe because of it, the sex is always sizzling between the two.
From 1700s Maryland, to modern day Maryland, to the shores of 1700s Scotland, to the colonial city of Philadelphia, this book has a lot going on. Belfrage has created an intriguing plot based off of a family heirloom with a wealth of secrets. This series should only get better as it goes on.
I received a copy of this title via Historical Fiction Virtual Book Tours.