Jenna's Top 10 2020 Reads
As some of you may have noticed if you've read my author bio at the bottom of my posts, I also review books on my own blog. So when we decided that everyone would do a top 10 here on With a Book in Our Hands, I decided to pick a top 20 and split it between my blogs. For my top 10 tour reads of 2020, visit this post on Westveil Publishing.
Below are my top 10 reads of 2020, regardless of publication year, that I read for any reason other than a tour hosted on my other blog. Some of them are ARCs and backlist review copies from authors and publishers (mostly obtained through NetGalley.) Some of them are books I bought or borrowed from the library simply because I wanted to (or missed the ARC.)
Note: These are in no particular order, this is not a ranked list. For books that already have a review posted to my other blog, I'll link to that so you can read it and perhaps check out the links and other info I normally provide with books I feature on Westveil.

Legendborn
by Tracy Deonn
Published September 15, 2020
by Margaret K. McElderry Books
Rating: 5 Stars 
Genre: YA Urban Fantasy, Own Voices
Reviewed here on With a Book in Our Hands.
Review over on Westveil Publishing.
I won't rehash my whole review here, as you can easily go read it on either blog if you haven't already. This is my single most favourite, most cherished ARC that I got to read in 2020. It's a truly amazing 5 star YA Fantasy read that combines a new twist on Arthurian legend with African American history and traditions and the reality of anti-black racism in the American south today. I loved it so much that I actually paid international shipping to order an autographed hardback copy, even though I had the ebook for free from ARC reading. What truly made me realize how important this book is, though, was when I showed the cover to my best friend as I was gushing about it. She's a Nigerian-Canadian woman, and her first comment when she saw this cover was to declare with surprise "A Black lead?!" This is an epically awesome fantasy novel with great YA themes that features a strong lead who looks like a lot of girls who haven't seen themselves represented in mainstream fiction before.

With the Fire on High
by Elizabeth Acevedo
Published 7 May 2019
by Quill Tree Books
Rating: 5 Stars
Genre: YA Contemporary Fiction
Review on Goodreads. (I haven't released this review on either blog yet.)
Emoni Santiago is starting her senior year at a charter high school. Her passion in life is food and cooking, and a new chef has been hired on to reboot the culinary arts program at her school. There's even a senior Spanish Infusion class that includes a trip to Spain! The problem? Emoni is a single mom living with her abuela, and their little family of three scrapes by on Emoni's part time pizza restaurant income and her abuela's disability checks. She'll never be able to afford a week in Spain, and although pursuing a career as a chef would make her heart sing, it's not a sure thing and she thinks she shoud go to a local college and study for a more stable career. With the Fire on High is the story of how Emoni learns that her dreams are worth chasing, that she can let love into her life, and that she's more than just a teen mom. Also like Legendborn, this book heavily features modern day anti-black racism and the more complicated racism experienced by mixed race kids in America. "I don't reduce" is what she's always saying. Her mother was African American, her absent father is Black Puerto Rican, but she's all Black. Stop trying to pick that apart! Black Latinas are valid.

To Sleep in a Sea of Stars
by Christopher Paolini
Published 15 September 2020
by Tor Books / Macmillan Audio
Rating: 5 Stars
Genre: Science Fiction
Space Opera, First Contact
Reviewed over on Westveil Publishing.
Paolini is famous for being the teenager who published Eragon back in the early 2000s and kept it going into the four-book Inheritance Cycle series. To Sleep in a Sea of Stars is his first book since 2008, his first adult level book, and his first science fiction. Despite all those firsts, this 880-page (32.5 hour audio) monster of a book is an absolute masterpiece. I had the honour of reviewing the audio ARC, but then I purchased the hardback anyway. How could I not? Look at that gorgeous cover!
It's the 23rd century, humanity has expanded throughout the galaxy, and our main character Kira Navarez is a xenobiologist hoping to setting down as a colonist with her fiancé Alan. Unfortunately for her, when she investigates an unusual reading in the terrain during what should be one of her last missions, she awakens an alien construct that she comes to know as the Soft Blade and with it creates an enemy force known as the Maw. Kira and the crew of a smuggler ship called The Wallfish must learn all they can about the Soft Blade, the species that created it, and the new enemies humanity is facing now in order to save the galaxy.

Cemetery Boys
by Aiden Thomas
Published 1 September 2020
by Swoon Reads
Rating: 5 Stars
Genre: YA Paranormal Fantasy, LGBTQIA
I only just got a chance to listen to the audiobook (despite the fact that I pre-ordered the ebook…) last weekend, and I haven't had a chance to finalize my review yet. Look for my review coming out soon on Westveil Publishing or follow me on Goodreads!
Yadriel is the trans son of a traditional Latinx family in California who practice Brujería, the religious and magical practises of Latin America. Yadriel has not been initiated officially as a brujo because his father doesn't believe that he can be initiated as anything other than a bruja and has it work, so his friends have done it in secret. When a friend dies, Yadriel figures that if he can summon and release their friend's spirit he'll prove himself as a brujo and force his community to accept him. Simple, right? Well, he summons the spirit of a schoolmate, Julian, and can't get rid of him. This is the story of solving a mystery about the recent abductions and presumed murders of Miguel, Julian and two others. It's the story of trans acceptance. It's the story of two teenage boys falling in love.
(If you haven't caught on yet, my top reads are mostly about diverse representation, and YA happens to be where that's being done best this year.)

The Betrayals
by Bridhet Collins
Published 12 November 2020
by William Morrow
Audiobook by HarperCollins Audio UK
Audio length 15 hr 12 min
Rating: 5 Stars
Genre: Historical Fantasy, Magical Realism
Reviewed over on Westveil Publishing.
The Betrayals takes place at a private boys college called Montverre in an alternate history version of the UK. Points of view alternate between the characters Léo Martin, Claire Dryden, and "The Rat" in the present, and Léo's past as a student at Montverre. Everyone's goal studying at Montverre is to master the grand jeu. Léo was once considered a prodigy of the grand jeu, having won the year's game in his second year of studies, and has been sent back to Montverre under the pretense of resuming his persuit of the grand jeu. In reality, he has disgraced himself in his political career and he's being hidden away. Claire is the current Magister Ludi, a position equivalent to Dean in the study of the grand jeu.at Montverre, and the fact that she, a woman, holds this position is hotly contested. (It would appear that no one realized she was a woman when her application was considered.) The plot revolves around a series of misunderstandings (or betrayals,) most of which are unintentionally Léo's fault but also wind up leaving Léo with the short end of the stick.
This book makes a lot of cautionary comments on xenophobia, sexism, classism, religious discrimination, and homophobia, and I loved that aspect. There is so much social commentary here that I could easily re-read it several times over and find new things to consider each time.
I do have two big concerns about the plot, even though they didn't spoil the 5 star status for me. The first is that The Rat feels very much like a character we were meant to meet in a sequel, and we only got her present time storyline now as opposed to a past times POV like Léo's in this book, so that she doesn't become a deus ex machina plot device at the end. I feel that could have been avoided by simply not including her POV at all and allowing the mystery she creates for the other POV characters to remain a mystery for the reader as well, to be explored in the sequel this has clearly setup. The other concern is not something I can address in great detail without spoilers, so I'll say this: there are two gender rights and identity "victory" moments in this book that are both beautiful and heartbreaking and perfect on their own, but I felt that one spoils the other. I'd love to chat with others who've read this book to see if anyone else feels the same way!

Felix Ever After
by Kacen Callender
Published 5 May 2020
by Balzer + Bray
Rating: 5 Stars
Genre: YA Contemporary Romance, LGBTQIA
Reviewed over on Westveil Publishing (though I think this one's due for a re-post! I hadn't solidified my post formatting yet and I would like to expand my review.)
Felix is a biracial trans boy attending at arts high school in New York who is, to his horror, publicly outed and deadnamed in a gallery of private pre-transition photos hung up on the sly in his school's foyer early in the school year. Felix and his friends try to find out who's behind the gallery, who's sending him threatening private messages, and what their motivation is. At the same time, Felix is still questioning his gender identity. Transitioning has not solved his dyphoria completely, and he starts attending a gender support group where he meets all sorts of LGBTQIA individuals who guide him in both his school bully struggles and in his quest to pin down his identity. Not only is this a cute YA romance with both the "friends to lovers" AND "enemies to lovers" tropes included, but it's also full of important discourse on LGBTQIA rights and racial prejudice.

Boy Queen
by George Lester
Published 6 August 2020
by Macmillan
Rating: 5 Stars
Genre: YA Contemporary, LGBTQIA
Review over on Westveil Publishing (but also desperately needs a revisit.)
"Life's a drag until you try…"
Robin is an openly gay student who lives for the stage. When every last one of his art school auditions fall through he's left wondering what to do with himself next year after graduation. Then his friends celebrate his birthday by taking him to drag night at a gay bar. This is a drag queen's coming of age story, and it's fabulous!

Grown
by Tiffany D. Jackson
Published 15 September 2020
by Katherine Tegen Books (HarperCollins)
Rating: 5 Stars
Genre: YA Contemporary
Reviewed over on Westveil Publishing.
Inspired by the R Kelly case, Grown is the story of a teen with a dream of becoming a pop star who is groomed and abused by the musician who takes her in. It also draws from the author's own past experience as a BIPOC teen who dated an older man and didn't see what was so wrong with the situation until she got out.
It feels wrong to say I loved this book because it's horrifyingly accurate in its portrayal of a very dark aspect of modern society, but it's beautifully written and it's such an important piece of work. Every teen should read this. Every parent should read this. Every teacher, grandparent, aunt, uncle, and daycare worker should read this.

The Ocean at the End of the Lane
by Neil Gaiman
Published 18 June 2013
by William Morrow Books / Harper Audio
Audio Length: 5 hr 48 min
Rating: 5 Stars
Genre: Magical Realism
Reviewed over on Westveil Publishing.
This was a long overdue read (listen) for me, 7 years late! Believe it or not I was excited about this one when it came out but didn't want to spend that price on a hardback novella while I was a poor college student. In a way, I'm glad I waited, because I ended up listening to the audible version narrated by Neil Gaiman himself, and I'm now firmly of the opinion that all books should be narrated by Neil Gaiman. If you like Coraline you'll love this, because it's basically Coraline for adults.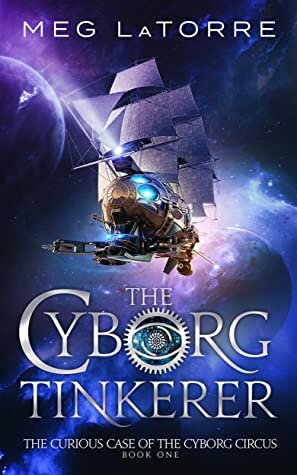 The Cyborg Tinkerer
by Meg LaTorre
Published 17 November 2020
Independently published
Rating: 5 Stars
Genre: Steampunk, Science Fantasy, LGBTQIA
Reviewed here on With a Book in Our Hands.
Reviews over on Westveil Publisheding.
Revisited on Westveil Publishing ("reacting to my review 3 months later.")
Disclaimer: I was a part of Meg LaTorre's street team promoting this book before publication on a volunteer basis and as such did receive an eARC directly from the author. The fact that this is a 5-star review is honest and genuine. If I hadn't felt this book was at least 4 stars I would have excused myself from the team. I will say that Meg was a delight to work with and I look forward to assisting with her future endeavours.
Gwen is a recently retired ship tinkerer who has taken a room on a planet known for piracy and illegal pleasures so she can enjoy the little time she has left. She has a fast growing tumor in her brain that she can't afford to correct, so she's made the bittersweet decision to make the best of her remaining months. Just as she's arriving on the pirate planet, so is the Cirque du Borg, the Cyborg Circus. The study, creation, and employment of cyborgs in this system is illegal. When police break up the circus and Gwen finds herself in prison, a surprise benefactor shows up to bail her out, but there are strings attached. Bastian is the circus ringleader, and he's offering her a contract as their new cyborg tinkerer. Live saving surgery that will turn her into a cyborg in exchange for 13 years exclusive service to the circus… and all her human memories.
There's more, though. What Bastian isn't telling her is that the circus is in trouble and needs to downsize, and as the new tinkerer she'll be, uh… "reclaiming" the circus' property from those who leave before their contracts lapse.
This book has it all! Cyborgs, a travelling circus, political intrigue, the most maturely written love triangle I've ever read and it's LGBTQIA to boot, dragons (yes, dragons!), life or death elimination games, and mystery. The steampunk aspect is reminiscent of Disney's Treasure Planet.
.
Is that 10 already? I still have 3 more tabs open on my other blog…