The Cyborg Tinkerer by Meg LaTorre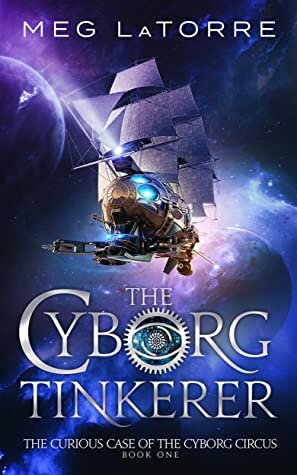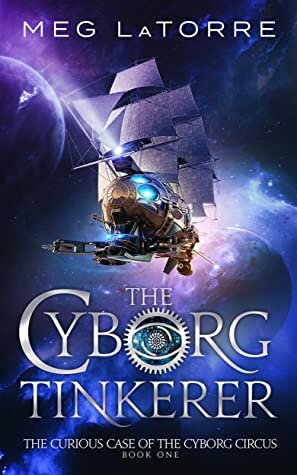 The Cyborg Tinkerer
by Meg LaTorre
Published 17 November 2020
by iWriterly
Rating: 5 Stars ⭐⭐⭐⭐⭐
Genre: Steampunk, Science Fantasy, LGBTQIA
Five stars! Can I read book 2 right now?
Disclaimer: I was given access to an ARC of The Cyborg Tinkerer in exchange for an honest review by the author. Thank you, Meg, for this opportunity!
This book has it all. It's science fiction, it's steampunk, it's action, thriller and romance. It has cyborgs, dragons, circus performers, and criminals on the run. It also features the most well-written love triangle I've encountered in many years, and it's a sensitively written LBGTQ+ triangle to boot! Which team will you be on; Team Rora or Team Bastian? (I'm totally Team Bastian!)
The decisions Meg made regarding technology in this very steampunk universe, like how digital technology exists but isn't common or cheap, remind me of Treasure Planet in all the best ways. The aesthetic in Treasure Planet is what made me love steampunk, so reading Meg's world was a real treat in that sense. Don't worry, though, the plot is nothing like a rehash of Treasure Island! This is an illegal travelling circus gone horribly wrong.
This novel features two POVs, Gwen's and Rora's, and this is handled very well. POVs only change at the start of new chapters, and the inner voices of these characters have been made quite distinct. I always knew who's head I was in right away at the start of each chapter, even when the character's name wasn't immediately mentioned. The timing of POV switches was handled well, too. At no point was I completely surprised by a POV change, nor did I ever wish I was still reading the other character. I'm torn between commending Meg for sticking with just two POVs and not overwhelming us, and hoping we get inside Bastian's head in the next book. I think at this point we'd be able to handle a third, and I am confident Meg would continue to do it well.
Gwen, our sassy and sarcastic MC, is a former ship tinkerer who has months to live thanks to a tumour growing in her skull. Cirque du Borge offers her a second chance at life as a cyborg tinkerer, but is the price too steep? The full extent of the job is certainly not what she expected.
Rora, an acrobat, is completely consumed by her desire to prove herself as a performer and win the Emporer's patronage. To perform at her best, she needs the help of the tinkerer. Seduction time! What could possibly go wrong?
Bastian, the ring leader, is a hard, haunted man who lives and breathes the circus. He's responsible for Gwen's recruitment, but he isn't completely forthcoming with her about what's in store.
Most of the planets and ships named in the book are identified as such, planet or ship, in the same paragraph they're first mentioned, but if you're ever confused there is a handy glossary included at the back of the book.
Although we do meet some of the other performers, most of the attention is on the main trio and the mistress of the circus, Celeste. Friendly supporting characters Marzanna and Akio are charming, and overgrown bullies Abrecan and Thaniel are layered and effectively written bullies. (I feel obliged to mention that whenever I read Akio's name I was thinking of "accio" and secretly hoped he would catch something in an unlikely way. No? Just me?)
Trigger warnings: There is violence, death, a lot of lust, polygamy, some very steamy sex scenes, mentions of self-harm, and a character with an eating disorder.