The Girl From the Mountains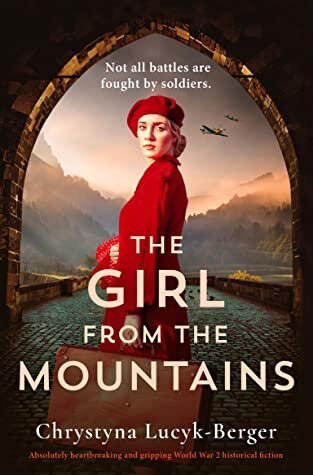 The Girl from the Mountains
Chrystyna Lucyk-Berger
Published: February 3, 2021 by Bookouture (first published Sept. 8, 2020 as Magda's Mark)
Genre: Historical FIction
Rating: 5 Stars ⭐⭐⭐⭐⭐
1942, Czechoslovakia: Gently, she lowered the sleeping infant, swaddled in blankets, down into the tiny, dark space and carefully replaced the wooden floorboards. As she stepped back, she heard the slamming of doors, voices shouting in German and the sound of dogs beginning to bark…
When the Gestapo arrive to arrest Magda's kind, Jewish employers—clever Dr Tauber and his talented wife—she has only moments to save their tiny newborn son Samuel by placing him in a makeshift hiding place beneath the floor in her room.
With the Taubers gone, their alpine villa is taken over by a brutal Nazi commander, who is determined to hunt down Resistance fighters in the mountains. Trapped in the house, Magda manages to get Samuel into hiding with her friends in the Resistance. Magda supports the cause, passing coded messages about the commander and smuggling much-needed supplies to their secret network.
Magda is playing a dangerous game and it isn't only her life on the line. And she will need to risk more than she ever thought possible to keep Samuel safe…
A heart-breaking wartime epic of love, bravery, survival and one young woman's exceptional courage, set against the backdrop of wild and beautiful forests and mountains. Perfect for fans of My Name is Eva, The Alice Network and The German Midwife, this novel will stay with you long after you have turned the final page.
Previously published as Magda's Mark, this edition has substantial editorial changes.
My Thoughts:
This book is a spectacular reminder that there are multiple perspectives from which to tell the history of WWII. Magda exemplifies so many women whose lives were altered by the circumstances of the war. Chrystyna Lucyk-Berger made an excellent choice in expanding Magda's tale into a full length book. In Magda we see a woman who evolves from being insecure and self-conscious to a woman who realizes and embraces her strengths as she struggles to survive and set right the wrongs caused by the Nazis. The author writes with such aplomb when relating the horrors inflicted on the people living in the area of what is now the Czech Republic. Readers experience the war through Magda's eyes and with that telling, the reader is given the opportunity to see more than just the Germany versus the world perspective. A quick read that is extremely enlightening.
I received a copy of this title via NetGalley.