Stephanie's Favorite Books of 2020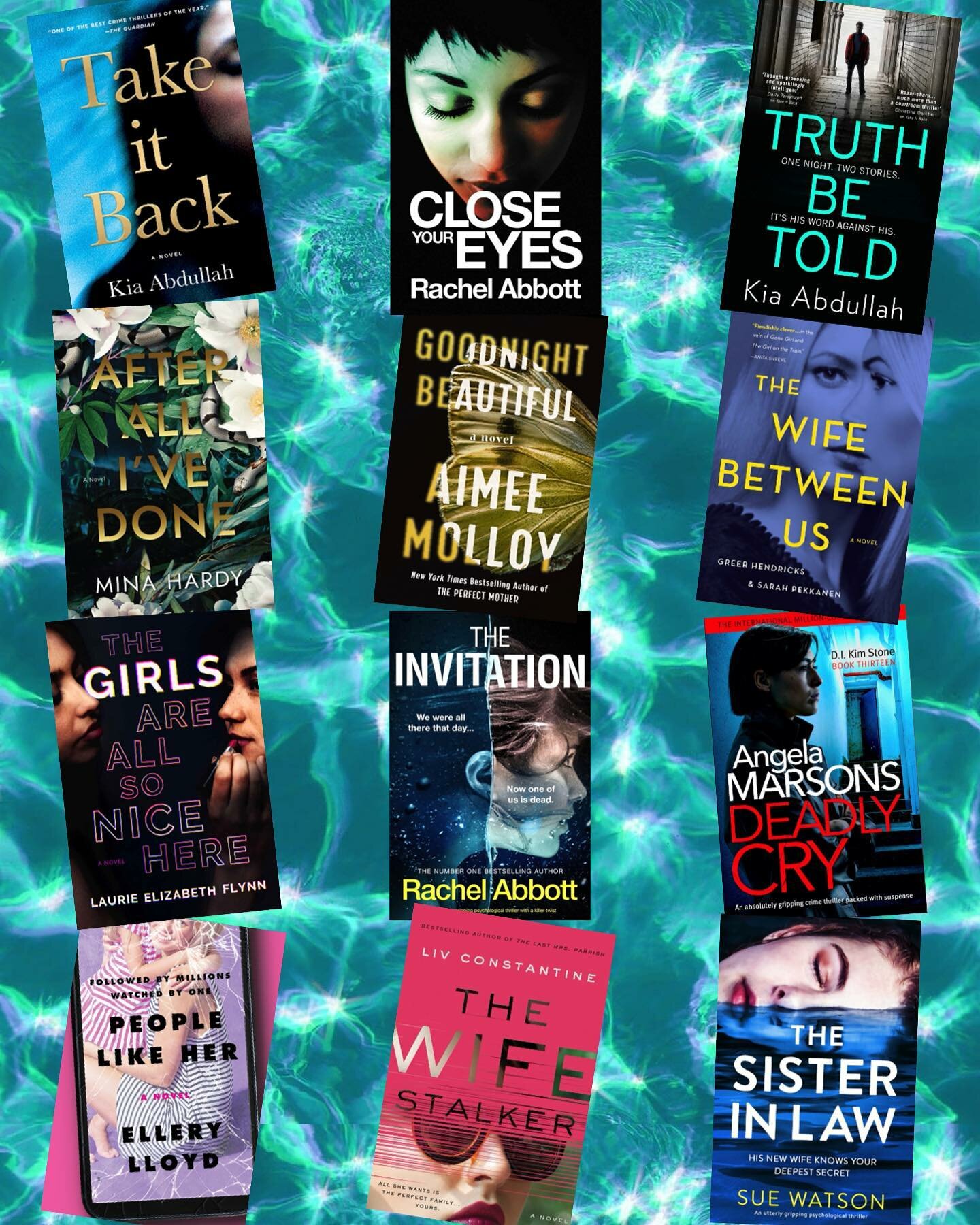 Wow! What a year this has been! I've always loved reading and recommending books to family and friends but this year, I finally created a Bookstagram account and really dug in with NetGalley to find new and upcoming books to get everyone excited about. Along the way, I feel like I've truly found my calling! Interacting with other book lovers, authors, and publicists has definitely been a highlight of my life! I'm supposed to keep my list at 10 but when it comes to books, I'm totally EXTRA, so here are my top 12!

So Take It Back was one that totally blew me away. It's a book I read in June but since it wasn't published in the US until December, I was just out there telling everyone about it and shouting it from the rooftops! I have never finished a book and started sobbing at the end… until now. Take it Back is one of the best books I've ever read. Definitely my favorite book of 2020! My heart broke for several characters at several places throughout the book. My jaw dropped over and over again! I love that the story is told from various characters' perspectives. Every time I was reading Jodie, I believed her. When I was reading the boys, I believed them. My mind was spinning in the best way possible. And Zara. Yes, Zara the Brave. She is absolutely amazing and strong and vulnerable and just my favorite character of 2020. What a phenomenal author Kia is to be able to yank me into a country and religion I am not accustomed to and make me understand and love and yet still manage to make it a thriller without making it political. I would give a zillion stars if I could. It's honestly THAT good. I can't wait to read everything else Kia writes! It was published by HQ in the UK and St. Martin's Press in the US.

So imagine my absolute delight when I was recovering from a book hangover after finishing Take It Back to discover that she wrote another book with Zara the Brave! It was set to be published in the UK in September so after a wee bit of begging, I was able to read it in advance and subsequently ordered a signed copy from Goldsboro Bookstore in London to be shipped to me in California! Because it was just as good, if not better, than Take It Back.
Kia Abdullah is officially now my favorite author. I don't say that lightly because there are some REALLY great authors out there. Truth Be Told, like its predecessor Take It Back, kept me gripped from the beginning until the end. But there are a lot of books that do that. What sets Kia apart from other writers is that she has this amazing ability to immerse me in a culture/religion I don't know and weave words together to make me actually empathetic to every single character from one extreme to the other. She tells amazing stories and everything flows perfectly. Take It Back made me burst into tears at the very end. Truth Be Told made me cry several times during the book feeling the anguish right alongside the characters.
I really liked that we got to learn a little more of the aftermath from what happened after Take It Back ended. Kia writes in a way that makes the characters living, breathing people rather than just words on pages.
I'm already desperate for her to write another book about Zara the Brave.
Both Take It Back and Truth Be Told are now at the very top of my permanent list of books to recommend.


I. Am. Breathless!!! I'm trying to put into words exactly how much I love this book. I can't. I'm sorry. So you'll have to excuse how lame this review is in comparison to how PHENOMENAL this book is. I've never screamed (Out loud. In bed. Late at night. Sleeping husband wasn't thrilled but I don't even care.) in shock so many times as the bombs just kept dropping! BAM! BAM! BAM! I realized so many times that I was holding my breath as I was reading. It all ended with my bawling my eyes out and I can't imagine any other ending. I loved every character. Then I didn't. Then I did. The twists just kept coming and coming!!! And it's REALLY difficult to shock me with as many thrillers as I read. This just might have the best ending of any book I've ever read. I've just ordered Aimee Molloy's debut novel, The Perfect Mother, without even reading the description because if she wrote with a fraction of the talent in that one as she did in Goodnight, Beautiful, I'll be giving that one ten stars. I wish I could give this book a zillion stars because that's what it deserves.

Someone recommended Rachel Abbott several years ago so I picked up the first in her Tom Douglas series, Only the Innocent, and was absolutely HOOKED. I impatiently wait for her books to be published and always devour them in less than a day. Why is it that I can never turn the pages of Rachel Abbott's books fast enough and yet I finish them way too quickly??? (My husband dropped his jaw when I sighed and said, "You finished that one ALREADY?") I had all kinds of theories that I knew would be obliterated in the end! With every book she writes, I am reminded time and time again why Rachel is one of my all time favorite authors! I love how Tom and Becky are third person and one of the characters from the case is in first person. It makes me love the characters so much more! I absolutely love Martha and I felt so protective of her throughout the whole book. Her character is so intriguing. As always, I love reading a little more about Tom's story. I wanted to jump into the book and throttle a few of the characters. Rachel is such a phenomenal writer that she is able to elicit such strong feelings toward characters in her books! She never fails to make me love some and hate some. She makes them like real people who I think about for a long time. Her characters are like my friends. All of her books read just fine as standalones but because they're all so great, I do recommend starting with Only the Innocent and reading them all!
Close Your Eyes gets 5 massive stars from me and now I'm sad having to wait for her next book! ***Look for Close Your Eyes when it's published on February 11, 2021***


I'm absolutely breathless after reading After All I've Done. I can't believe this is her first novel in this genre! It ticked every single box for me. Had me gripped from the first page. Kept my attention throughout. Relatable characters. Every storyline explored and resolved. Twisty. Shocking. Appalling. Shocking ending. I didn't expect to love the characters the way that I did. I thought I had it all figured out and then WHAM!!! She hit me over the head with that ending. I'm still sitting here just thinking about it. And now I wish I could get amnesia and read it all over again for the first time!

Wow!!! Where to begin?! First and foremost, this was a book that I loved reading from the very first page. There was never a dull patch or time when I was ready to put the book down. I'm so thankful to NetGalley and Bookouture for allowing me to read this book in advance.
As an avid reader in this genre, I had my suspicions from the beginning but somehow, this author found a way to drop my jaw anyway, which I LOVED!!!
There were some parts that made me cringe and I wanted to yell at the protagonist but I guess that's what makes for even better reading, right?
I didn't want the book to end and I even went back and read the last 50 pages again today just to enjoy the revelations!
This was my first time reading a book by Sue Watson but now I want to read everything she's written. Many people have posted about her latest book, First Date, which I also LOVED, but The Sister-In-Law was the book that made me love Sue's writing so this is the one that made it to my favorites list!
I very highly recommend The Sister-In-Law if you want to be intrigued, on the edge of your seat, and captivated!


Oh my goodness where to begin with this review??? This was my first book by these amazing sisters so I went into it without any expectations. (I have since read The First Mrs. Parrish and LOVED it and am very much looking forward to reading their upcoming book, The Stranger in the Mirror!) It was easy to read and easy to follow. I love books that switch characters each chapter and I love it when one of those characters is told in first person.
I could not put this book down and I hated being interrupted because I wanted more! I thought it was fairly predictable UNTIL IT WASN'T and I'm not sure if I'll get my jaw up off the floor anytime soon. And just when I was reeling from the first shocker, I was shocked again! I absolutely love books that can surprise me and I was trying desperately to predict the unpredictable like I usually can in this genre but NOPE! Toward the end, I got so sad because I didn't want this book to end!
Definite 5 stars from me!!!
I don't want to give any spoilers so I'm extremely anxious for others to read The Wife Stalker so that I can discuss it with them!!!

The Wife Between Us was actually published in 2018 but I read it in 2019 and still recommend it constantly in 2020 so I had to squeeze it in here! Told from various perspectives, the twists unraveled at a delicious pace. I just loved trying to figure out who was who and what everyone's motives were. I loved being pulled in by the writing and wanting more and more and more. I loved all of the twists and shockers! Sarah and Greer write together so well that after reading this one, I was desperate to read more! I absolutely can't wait for their next book to come out!

Another favorite series is Angela Marsons' Kim Stone books.
I honestly don't know how she gets better and better with each book. I loved every moment of Death Score! My jaw dropped over and over again and I'm just sitting here so shocked at the end! I only read a couple of authors for detective/police thrillers and Marsons is one of them. Although I typically prefer standalone thrillers, her Kim Stone series is one where I wait anxiously for the next installment and I've never been disappointed! I was so excited to see the profiler, erm, I mean behaviourist, Alison Lowe again! She's such a great character and I love to watch her develop. I also loved seeing a new side of Penn, who has worked his way into my heart. Now I guess I have to start being anxious for Angie to put out the next one! I definitely recommend that you start with her first book, Silent Scream, and work your way through in order of publication date. And you're welcome! 😉


I loved this book!!! I love the first person perspective from Amb and I loved the "then" and "now" alternating chapters. Every chapter was a twisty shock of mean girls horror over and over again! I had heard such great things from other advanced readers that I was really afraid it wouldn't live up to the hype so I was beyond blown away that it totally surpassed everything I was expecting! It was a crazy hot mess that I just couldn't put down and never wanted to end!!! Definite 5 stars from me! I highly recommend GIRLS!!! I can't wait to see what Laurie Elizabeth Flynn cooks up next!!! ***Look for The Girls Are All So Nice Here when it is published on March 9, 2021***


Y'all. I will never look at an Instagram influencer page the same way again. Wow! Wow! Wow! So many thoughts in my head! First, I absolutely loved the first person perspective from Emmy, Dan, and the creepy stalker. I really like that the authors are a husband and wife team and enjoyed reading alternating chapters. It's so cringe-y to read about how planned out the influencer thing is because I see a zillion of those kinds of accounts on Instagram myself as a wife and mom scrolling through my feed. The writing is so great and I was all nestled in thinking I knew exactly where it was all going when my hand flew to my mouth in shock! The twists and jaw-droppers just kept coming from that moment on! People Like Her is absolutely unputdownable and I can't recommend it highly enough! ***Look for People Like Her when it's published on January 12, 2021***


I love books that make me think of the characters when I'm cooking or doing other things besides reading. Wow!!! I absolutely love Rachel Abbott and have read all of her books. Tom Douglas will always have a special place in my heart and I love all of her books about him but WOW… I'm LOVING her new Stephanie King books!!! When I read Stephanie King book #1, And So It Begins, I actually did a double take to make sure it was Rachel Abbott. Her writing is completely different from her Tom books but I actually like the Stephanie King books better! As for The Invitation (The Murder Game in the UK), my mind was absolutely blown the whole book! I love the writing and it took me less than a day to finish the whole book! I felt like it was a modern, British take on the game/movie Clue. I suspected EVERYONE and yet she STILL managed to make my jaw drop a couple of times! I absolutely recommend this book! It's easily read as a stand-alone book but if you want a little background into Stephanie and Gus, you should read And So It Begins. (You should read it anyway!) I cannot wait to see what Rachel has in store for Stephanie in future books!