Olivia's End of the Year Wrap Up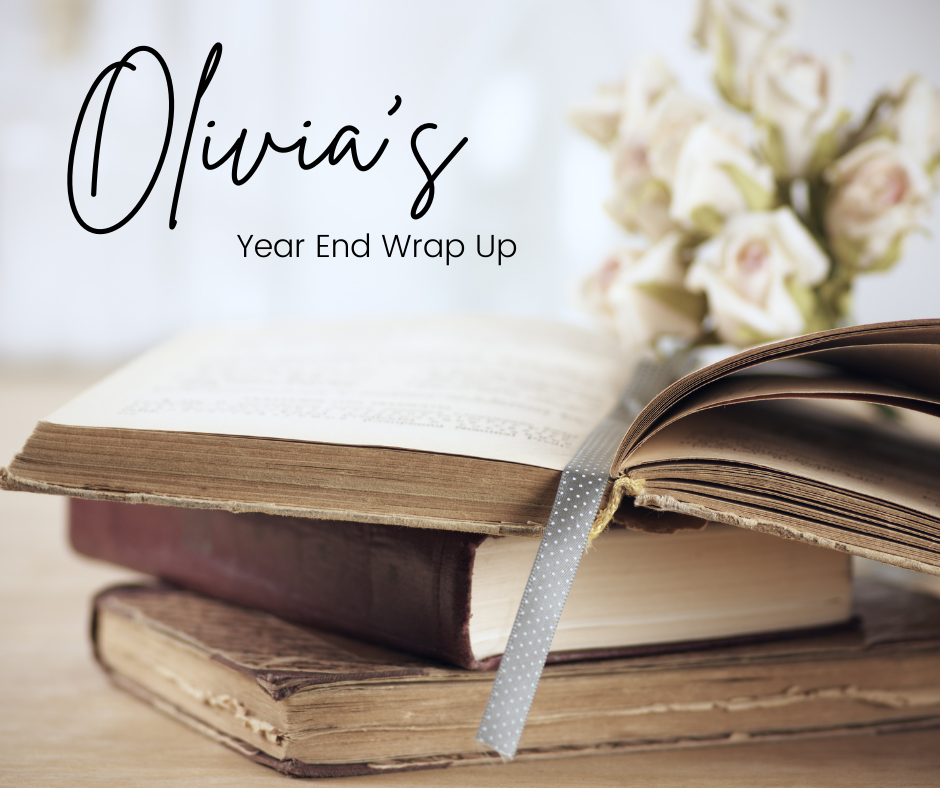 Here is a list of the top 6 books I read in 2020. Have you read any of them?

A poignant exploration of family and the ties that bind, perfect for fans of Far From the Tree, from New York Times bestselling author Cynthia Hand.
Today Melly had us writing letters to our babies…
Cassandra McMurtrey has the best parents a girl could ask for. They've given Cass a life she wouldn't trade for the world. She has everything she needs—except maybe the one thing she wants. Like, to know who she is. Where she came from. Questions her adoptive parents can't answer, no matter how much they love her.
But eighteen years ago, someone wrote Cass a series of letters. And they may just hold the answers Cass has been searching for.
Alternating between Cass's search for answers and letters from the pregnant teen who gave her up for adoption, this voice-driven narrative is the perfect read for fans of Nina LaCour and Jandy Nelson.
This is probably my favorite book by Cynthia Hand. I loved it so, so much. I immediately connected with the story and it's characters. I felt emotionally involved, read the whole thing in 1 day and had a definite book hangover when I was done.

In this romantic road trip story perfect for fans of Sarah Dessen and Morgan Matson, a teen girl discovers the value of ordinary objects while learning to forgive her absent father.
After Ali's father passes away, he leaves his one and only prized possession—a 1968 Firebird convertible—to his daughter. But Ali doesn't plan on keeping it. Not when it reminds her too much of all her father's unfulfilled promises. So when she finds a buyer three hundred miles up the Pacific coast willing to pay enough money for the car to save her childhood home, Ali can't wait to get going. Except Ali has no idea how to drive a stick shift. But guess who does?
Ali's ex-boyfriend, Nico. And Nico has other plans. He persuades Ali that instead of selling the car, they should "trade up" the items they collect on their trip to eventually reach the monetary amount Ali needs. Agreeing with Nico's crazy plan, Ali sets off on a unique adventure that is unlike anything she ever could have expected.
And it's through Ali's travels, through the strangers she meets and the things that they value—and why they value them—that Ali eventually comes to understand her father and how his life may not have been as easy and carefree as she previously thought. Because just like the seemingly insignificant objects Ali collects, not everything is exactly as it appears.
Another YA novel that I thoroughly enjoyed. I found this book when I was shelving new books in our library. I loved the cover and when I read the blurb inside I was hooked. I started it while eating breakfast and stayed up late the same day to finish it. When I first started to read I had my doubts. Sometimes I can't get the adult (and mom) in me to be quiet and when Ali talks about her scholarship I had one of those moments. I wasn't sure if my inner teenager would be able to surface and connect with her and her story. But I kept going and I was so glad I did. I got lost in her story, her relationship with Nico, her father, and the journey they go on.

Mercy Thompson, car mechanic and shapeshifter, faces a threat unlike any other in this thrilling entry in the #1 New York Times bestselling series.
I am Mercedes Athena Thompson Hauptman.
My only "superpowers" are that I turn into a thirty-five pound coyote and fix Volkswagens. But I have friends in odd places and a pack of werewolves at my back. It looks like I'm going to need them.
Centuries ago, the fae dwelt in Underhill–until she locked her doors against them. They left behind their great castles and troves of magical artifacts. They abandoned their prisoners and their pets. Without the fae to mind them, those creatures who remained behind roamed freely through Underhill wreaking havoc. Only the deadliest survived.
Now one of those prisoners has escaped. It can look like anyone, any creature it chooses. But if it bites you, it controls you. It lives for chaos and destruction. It can make you do anything–even kill the person you love the most. Now it is here, in the Tri-Cities. In my territory.
It won't, can't, remain.
Not if I have anything to say about it.
One of my all time favorite series. I discovered it a few years ago after seeing a friend's recommendation on Goodreads. This is book number 12 and not a stand alone. Its adventurous, full of characters I like, and as soon as I finish a book I'm ready for the next one. I've read (and re-read) this series a few times.

Susanna has found her true prince, and their happily ever after is just around the corner. But when Nate asks her to give up something precious to her, Susanna can't help but wonder if it's a sign that their love is not meant to be.
Susanna Truitt (Once Upon A Prince) is three weeks from royalty. She'll soon marry King Nathaniel II of Brighton Kingdom. But when the government insists she renounce her American citizenship before the wedding, coupled with the lack of involvement by family and friends, her heart begins to doubt whether this marriage is God's plan for her.
Nathaniel would do anything for his bride-to-be. But he knows his position requires that she give up a lot to be with him. Her life will never be her own — right down to her very identity. When she travels home to St. Simon's Island, Georgia, right before the wedding, Nathaniel fears she won't return. Gathering his courage, he devises a plan to win his bride all over again, and together they seek out a kingdom to treasure above all.
This book is part of a series called A year of Weddings Novellas. Each is a Christian Romance. This particular story is like an epilogue to Rachel Hauck's Once Upon a Prince series and I really do like all of her books. There is a story for each month and this series is dear to my heart. These novellas are what I listened to the first couple weeks of the pandemic. The weeks where we were told to stay home for 2 weeks, where we had a earthquake and lots of aftershocks. The weeks were I was trying to sew masks, ration toilet paper and figure out online school for 3 kids. They were bright, light audio books, and exactly what I need to keep going.

A homicide detective's violent family history repeats itself in #1 Amazon Charts and Wall Street Journal bestselling author Melinda Leigh's novel of murder, secrets, and retribution.
For more than twenty-five years, Philadelphia homicide detective Bree Taggert has tucked away the nightmarish childhood memories of her parents' murder-suicide…Until her younger sister, Erin, is killed in a crime that echoes that tragic night: innocent witnesses and a stormy marriage that ended in gunfire. There's just one chilling difference. Erin's husband, Justin, has vanished.
Bree knows how explosive the line between love and hate can be, yet the evidence against her troubled brother-in-law isn't adding up. Teaming up with Justin's old friend, former sheriff's investigator and K-9 handler Matt Flynn, Bree vows to uncover the secrets of her sister's life and death, as she promised Erin's children. But as her investigation unfolds, the danger hits close to home. Once again, Bree's family is caught in a death grip. And this time, it could be fatal for her.
I love the Bree Taggert series. You are immediately drawn in to a very gripping scene and it takes off from there. I really like that Bree is a strong, independent heroine. This one kept me guessing until the very end.

FBI special agent Mercy Kilpatrick has been waiting her whole life for disaster to strike. A prepper since childhood, Mercy grew up living off the land—and off the grid—in rural Eagle's Nest, Oregon. Until a shocking tragedy tore her family apart and forced her to leave home. Now a predator known as the cave man is targeting the survivalists in her hometown, murdering them in their homes, stealing huge numbers of weapons, and creating federal suspicion of a possible domestic terrorism event. But the crime scene details are eerily familiar to an unsolved mystery from Mercy's past.
Sent by the FBI to assist local law enforcement, Mercy returns to Eagle's Nest to face the family who shunned her while maintaining the facade of a law-abiding citizen. There, she meets police chief Truman Daly, whose uncle was the cave man's latest victim. He sees the survivalist side of her that she desperately tries to hide, but if she lets him get close enough to learn her secret, she might not survive the fallout…
This was a great adventure. Realistic relationships, and a good back story. You feel like you know who Mercy is and why she does what she does. I really liked her and Truman together.