Shutter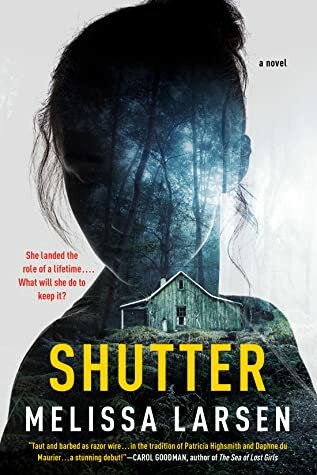 Shutter
by Melissa Larsen
Published June 15, 2021
by Berkley
Rating: 4 Stars ⭐⭐⭐⭐
Genre: Suspense
With a strong sense of foreboding and a steady, slow burn, this was one I struggled to put down and couldn't wait to pick back up!
SYNOPSIS:
After her father's death by suicide, Betty moves to NYC to escape her old life and redefine herself. She crashes on her friend Sofia's couch until she can meet with Sofia and Ben's director friend Anthony to discuss his upcoming project. When Anthony and Betty meet, the chemistry is instant and Anthony knows immediately that she will be perfect for his new film. But when they arrive at the location and there is no script and no plan, yet everyone else seems to know more about the plot and film than she does, Betty starts to wonder if she hasn't made a huge – and dangerous – mistake.
MY THOUGHTS:
This book was definitely a slow burn and I wouldn't recommend for anyone who needs an action driven plot. The suspense builds on every page but really doesn't come to a culmination until the book is nearly finished. This also isn't a novel that's tied up with a pretty bow at the end. I loved the loose ends and questions that Larsen left the reader with though I know that will be a point of contention for some readers!
I didn't love Betty's character or necessarily feel or understand the chemistry between her and Anthony but I thought it all worked well for the storyline. I often wondered at the decisions Betty made and her self consciousness and mistrust felt authentic, particularly given her history.
What I loved most about the story is how unique it was. I've really never read anything like it. I loved that they were creating a movie (it felt super Blair Witch Project to me!) and though it was supposed to be a "reality" horror film, we had no other details. This technique really kept me flipping pages and eager to learn to more.
Thank you to Berkley and NetGalley for a copy of this novel.