Rabbits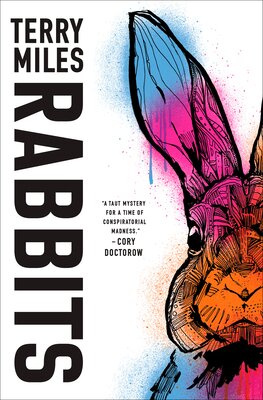 Rabbits
by Terry Miles
June 8, 2021
by Del Rey Books
Rating: 5 Stars ⭐⭐⭐⭐⭐
Genre: Sci-Fi & Fantasy
Conspiracies abound in this surreal and yet all-too-real technothriller in which a deadly underground alternate reality game might just be altering reality itself, set in the same world as the popular Rabbits podcast.
It's an average work day. You've been wrapped up in a task, and you check the clock when you come up for air–4:44 pm. You go to check your email, and 44 unread messages have built up. With a shock, you realize it is April 4th–4/4. And when you get in your car to drive home, your odometer reads 44,444. Coincidence? Or have you just seen the edge of a rabbit hole?
Rabbits is a mysterious alternate reality game so vast it uses our global reality as its canvas. Since the game first started in 1959, ten iterations have appeared and nine winners have been declared. Their identities are unknown. So is their reward, which is whispered to be NSA or CIA recruitment, vast wealth, immortality, or perhaps even the key to unlocking the secrets of the universe itself. But the deeper you get, the more deadly the game becomes. Players have died in the past–and the body count is rising.
And now the eleventh round is about to begin. Enter K–a Rabbits obsessive who has been trying to find a way into the game for years. That path opens when K is approached by billionaire Alan Scarpio, the alleged winner of the sixth iteration. Scarpio says that something has gone wrong with the game and that K needs to fix it before Eleven starts or the whole world will pay the price.
Five days later, Scarpio is declared missing. Two weeks after that, K blows the deadline and Eleven begins. And suddenly, the fate of the entire universe is at stake.
Courtney's Thoughts:
This book is an adventure! I've read some good books lately, but this one seems to top all of the others!
K has had an interesting life from the time she was a small child. She was raised to notice the connections in life. A number is no longer just a number to her, and it really gets her into some difficult situations. When she learns about this game of Rabbits, she can't get enough. The problem is that Rabbits is like Fight Club. You don't talk about Rabbits. Now K spends all of her time hunting down this illusive game. There's always been rumors that people died while playing this game, but suddenly it's happening more often. K needs to stop asking questions or she could be next.
This is definitely a book you need to pay attention to. Some books are for light beach side reading. RABBITS is for getting completely lost in a new world where everything means something and you'll never know what to expect. This book has grabbed my full attention, and I could not get enough. It kept me up at night trying to see what the next thing K would learn would be. It's such a fun time trying to piece together K's life along with her. This book is for anyone who loves a good puzzle and a twisty rabbit hole.
I would also suggest picking up this book if you liked the show Utopia.
Huge thank you to Terry Miles, Del Rey Books, and Netgalley for this thrill ride!