A Diamond for Her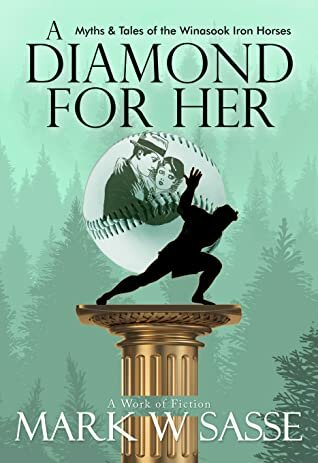 A Diamond for Her
Mark W. Sasse
Publication Date: March 23, 2021
Genre: Historical Fiction and Fantasy
Rating: Kate- 4 Stars ⭐⭐⭐⭐, Desiree- 4 Stars⭐⭐⭐⭐
Myths & Tales of the Winasook Iron Horses. A Work of Fiction.
He loved her enough to build her a baseball stadium.
In 1920, railroad man Raymond Blythe had a series of disturbing dreams—giant creatures with Greek names playing baseball. He was determined to find out what they meant. The dreams set him on a bizarre quest to find a connection between Iowa, Theodore Roosevelt, baseball, and his deceased father. While searching for answers at the Carnegie Library in Pittsburgh, he met a young librarian named Rochelle Christy. This meeting sets him on another quest—to win her hand in marriage even if it means he has to establish his own baseball league in Pennsylvania's Allegheny Mountains.
A Diamond for Her chronicles the fictitious history of the Winasook Iron Horses, who were the founding members of the Allegheny Independent League from 1921-1955. Baseball magic was born in these mountains proving time and again that anything can happen inside the diamond.
Kate's Thoughts:
The title and synopsis drew me in like a moth to a light. I mean how could a baseball fan and book lover could turn away? This book delivered all that I expected and all that I didn't. Sasse offers us a love story and a story of the passion for baseball. He offers us a means by which to believe in the unbelievable. He encapsulates the essence of what small town baseball did for communities. While this book isn't a true history of any specific team or person, it does provide context for the early days of professional baseball. And honestly, what baseball fan among us would argue with the reality of the baseball gods?! This book was witty, endearing, and heartwarming. It is a balm for the soul in these days of COVID-19 when going to the ballpark forces us to be nostalgic.
I received an advance copy of this title via Book Sirens as a means for participating in the Historical Fiction Virtual Book Tour.
Desiree's Thoughts:
It takes a writer of immense skill to pull this off this kind of 'story within a story' and for this I "doff my hat" to author Mark W Sasse – it was fabulously executed. That said, I did find myself lagging in interest to pick the book up at times, as in certain moods I am just not a fan of nonfiction (which, silly me, I forgot this wasn't!) I was amazingly impressed at how easily I was fooled – At times I found myself mock shouting at the book, "This guy (Raymond Blythe) is a real piece of work!"
All-in-all I would say that if you're a lover of baseball, love stories, early American tales and history, or just plain skilled writing, I think you'll enjoy this book! And you might just "meet" a few politicians or sports heroes along the way (well, their fictional versions anyway!).