A Betting Woman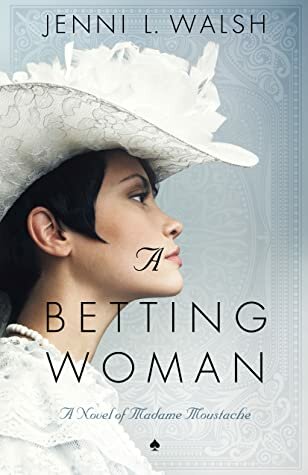 A Betting Woman
Jenni L. Walsh
Publication date: June 1, 2021 by Wyatt-MacKenzie Publishing
Genre: Historical Fiction
Rating: 5 stars ⭐⭐⭐⭐⭐
Born Simone Jules, reinvented as Eleanor Dumont, and largely remembered as Madame Moustache, A Betting Woman is a historical novel inspired by the tumultuous life, times, and loves of America's first professional croupier of modern-day blackjack, bringing to life an intrepid and entrepreneurial real-life woman who lived on her own terms.
When her whole family dies in a fire, young Simone flees her grief and travels west to reinvent herself in burgeoning San Francisco. Down to her last dollar and facing some unsavory options, Simone quick-wits her way to a gambling table where she begins to deal vingt-et-un—modern-day blackjack. Word travels fast among of this French-speaking, card-playing novelty, and she begins to build a new life for herself.
Self-sufficient Simone doesn't count on falling for an artist— not to mention a man of a different skin color—who society, and the law, says she can't have. When he is murdered, Simone is devastated and sets off to find closure for his death.
Finding her way to a new boomtown, she adopts a new name, Eleanor Dumont, and opens her very own gambling emporium. "Dumont's Place" is a great success, drawing mountain men and fortune seekers from far and wide.
​
But the boom and bust of the gold rush stops for no one, nor do the challenges of a man's world. Eleanor must continue to fight—for her livelihood, for her self-worth, and most of all, for her legacy.
My Thoughts: What if whenever tragedy struck you could reinvent yourself? What would it be like to let destiny and fate guide you in life altering decisions? Readers, let me introduce Madame Moustache. In this book author Jenni L. Walsh brings to life the incredible story of Simone Jules/Eleanor Dumont/Madame Moustache. Simone Jules experienced a tragedy so intense that she picked up and left everything she knew to start over. She inserted herself into a world dominated by men as a woman croupier (card dealer). Tragedy again stuck and Simone wandered as a means to find closure. A calm befell her as she embraced a new home and new identity as Eleanor Dumont. Her past life as Simone threatened to topple her new existence but it was the inevitable rise and fall of a mining boom town that had her off again. As a woman who lived most of her adult life on her own terms, she comes to realize that sometimes outside forces are out of a person's control. Madame Moustache embraced all who she was and who she could be as she ventured to carve out a legacy for herself in the rough and tumble western mining towns. Walsh delivers a brilliantly composed novel that truly encapsulates the uniqueness of its main character. A wonderfully enjoyable read!
I received a copy of this title via NetGalley.