Flowers of Darkness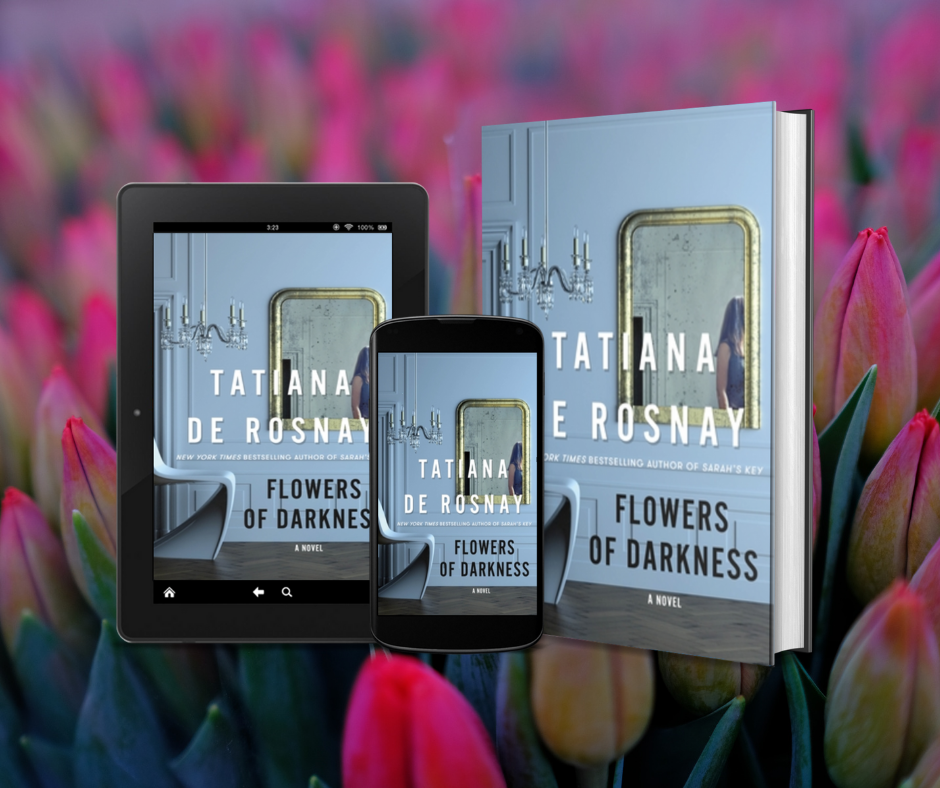 Flowers of Darkness
by Tatiana de Rosnay
Publishing February 23, 2021 by St. Martin's Press
Rating: 4 Stars ⭐⭐⭐⭐
Genre: General Fiction (Adult) | Women's Fiction
From the Publisher:
From the internationally bestselling author of Sarah's Key comes Tatiana de Rosnay's Flowers of Darkness, a riveting and emotionally intense novel, set in a near future Paris, where a woman confronts past betrayal and present mystery
Author Clarissa Katsef is struggling to write her next book. She's just snagged a brand new artist residency in an ultra-modern apartment, with a view of all of Paris, a dream for any novelist in search of tranquility. But since moving in, she has had the feeling of being watched. Is there reason to be paranoid? Or is her distraction and discomfort the result of her husband's recent shocking betrayal? Or is that her beloved Paris lies altered outside her windows? A city that will never be quite the same, a city with a scar at its center?
Stuck inside, in the midst of a sweltering heat wave, Clarissa enlists her beloved granddaughter in her investigation of the mysterious, high tech building even as she finds herself drawn back into the orbit of her first husband who is still the one who knows her most intimately, who shares the past grief that she has never quite let go.
Staying true to her favorite themes—the imprint of the place, the weight of secrets—de Rosnay weaves an intrigue of thrilling suspense and emotional power.
My Thoughts:
A fascinating tale in near-future Paris, de Rosnay brings the sense of place and atmosphere that she's known for in spades. I was utterly fascinated with this Paris of the future and in unraveling the multiple mysteries layered throughout the novel.
I was particularly absorbed by how this novel is so much like, and also yet so different from one of my favorite novels, de Rosnay's Sarah's Key. While Sarah's Key takes us back to Paris of World War II, Flowers of Darkness takes us about 15-20 years into the City of Light to come, as de Rosnay envisions it.
It is a world where an unnamed catastrophic event has decimated the city, as well as other national capitals, not to mention the decimation of the Earth's climate due to global warming. Yet, the main crux of the story centers around a mystery for the reader, as to why main character Clarissa recently left her husband of 20 years, along with a riddle that Clarissa is trying to solve for herself.
If I had a complaint about this tale, it would be that while intriguing, I didn't feel like the story wrapped up all the loose ends by the conclusion; and the imaginative future that pulled me through the story with ease, didn't wrap-up with an obvious lesson for the reader.
Yet, de Rosnay is an excellent novelist, who writes finely crafted and compelling prose that makes you think, and for that I do recommend Flowers of Darkness for anyone who enjoys a bit of spooky suspense or a touch of a post-apocalyptic future.
A big thank you to Tatiana de Rosnay, St. Martin's Press, and NetGalley for providing an advanced reader copy in exchange for this honest review.
Flowers of Darkness is available this Tuesday, February 23, 2021, in Hardcover, Audio CD, Audible Audiobook, and for Kindle. Please consider buying from BookShop.org, the online bookstore that has donated over $10 million to independent bookstores since starting operation in early 2020.