Laura's End of Year Wrap-Up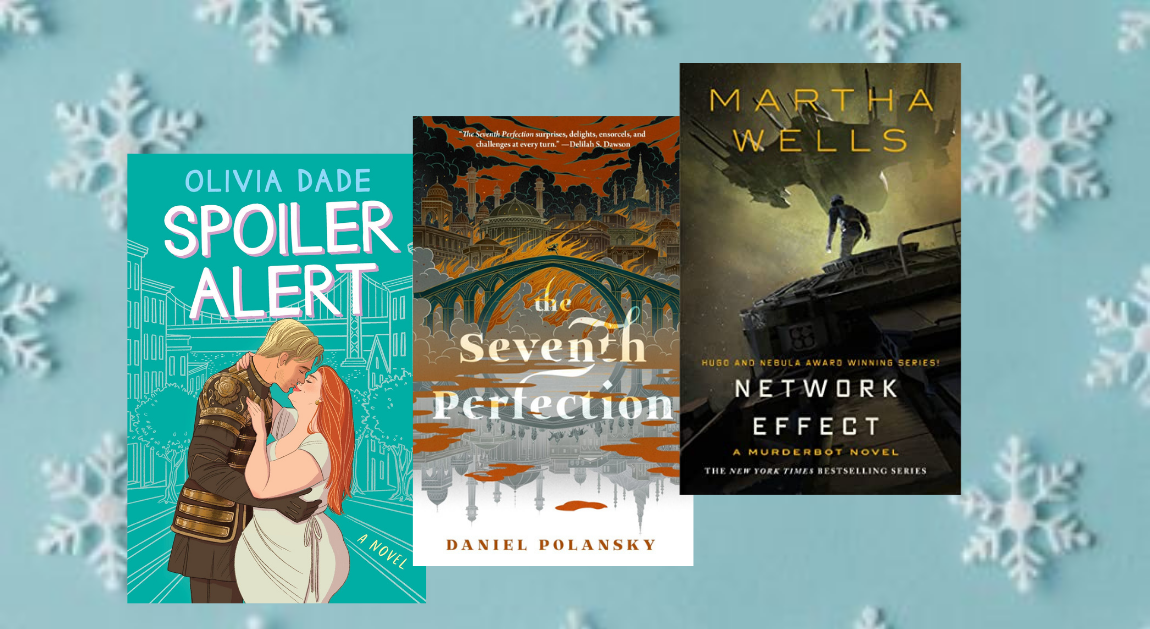 So many amazing books came out during 2020! It was tough to pick just a few. But choose I did. A few of my favorite reads from 2020.

Spoiler Alert by Olivia Dade gave me all of the feels and soothed my nerd girl soul in ways that I didn't realize it was hurting. A relatable plus-size main character, who's smart, wickedly funny, talented, and uninterested in being "fixed." YES! This book is full of nods to fanfic writers and not-so-subtle jabs at the Game of Thrones television series.

The Boyfriend Project by Farrah Rochon. Thanks to social media, three women discover they've been dating the same lowlife guy. While one woman is livetweeting her terrible date with him, the other two go to confront him and his cheating ways. Strangers capture the shero moment and the video goes viral.

The three agree to swear off men for at least six months. They decide to focus on themselves, their careers and their budding friendship.

That's right when Samiah, a super-smart tech whiz, notices how gorgeous Daniel, her new coworker, is. She's drawn to him but what about the pact?

This Is How You Lose the Time War. Captivating and gorgeous novella about two agents from opposite sides in a war for supremacy of the multiverse. Blue and Red, beautifully voiced by authors Amal El-Mohtar and Max Gladstone, begin as fierce opponents. And then. Then Blue leaves a letter for Red. What starts as taunts turns into a courtship that spans timelines and centuries in cunning twists and turns. So exquisitely written that it's almost poetry.

VE Schwab's The Invisible Life of Addie LaRue is about Addie, who made a deal with The Darkness. She's immortal but she's nameless and forgotten by everyone as soon as she's out of their sight. Even her parents and friends don't remember her. How do you exist in a world where you can leave no mark, not your image, your signature or even the stain of spilled wine. Lovers only remember you until you leave the room or they fall asleep.
The Darkness offers Addie an end to the pain of this loneliness – pay him what she bargained away – her soul.

The Seventh Perfection by Daniel Polansky is an exquisite puzzle box of a story told with second-person POV. It's an intricately plotted mystery told with gorgeous, atmospheric writing perfect for fans of Tamsyn Muir.

Manet, the God-King's Amanuensis, is searching for the identity of a woman, whose photograph is in a locket. You, the reader, read people's responses as if you're Manet, asking the questions. It's a difficult feat to do well – capturing the voices of so many characters, making them unique while also creating answers that slowly put together the puzzle pieces without feeling like an info dump.

To do all of that brilliantly within a novella is astounding!

Sarah Gailey's The Echo Wife is amazing! Evelyn is an award-winning scientist at the pinnacle of her career whose work involves clones. She's also divorced. Her once-loving husband wanted a family, a softer, more agreeable wife. He had an affair and left Evelyn but not just for any woman. He created a clone of Evelyn – a softer, more agreeable Evelyn – ready to be the perfect mother and homemaker, just as he desired and created.
The tension goes through the roof when the clone calls Evelyn begging for her help. And they both embark on a course of action that binds them together and irreparably change their lives
A biting look at the choices women face trying to balance societal demands and expectations with their own desires and needs. With a side trip examining the ethics of clones and how they might be used. Sharp, twisty, and brilliant. A total page-turner!

Network Effect by Martha Wells is the fifth book in the Murderbot Diaries but the first full-length novel. I'll admit that I was unsure if the author could pull off Murderbot's angry, eye-rolling snark for an entire novel without it feeling one-note. (I knew she could write fabulous doorstop novels because her Death of the Necromancer is a fav). I was delighted that yes she can and boy, does she!
Murderbot really wants to be left alone to watch its media but that's not going to happen when its humans are attacked during a research mission.
Your thoughts
Have you read any of these books? Tell me what you think about them in the comments below. Have I missed a fantastic book? Let me know!